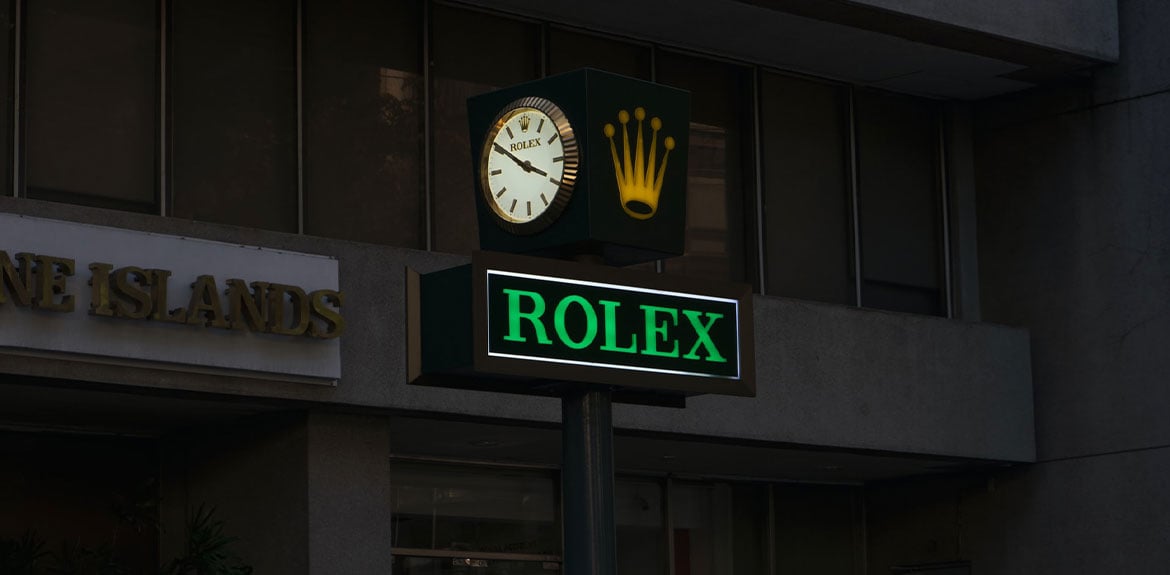 Rolex Yachtmaster vs Submariner Review (DETAILED Differences)
The Rolex Submariner and Yacht-Master are two of the brand's most well-known sports watches that are intimately linked to the company's seafaring endeavors. One takes the adventure to the depths of the ocean while the other sails above.
We know that is difficult choosing between the two. This post has comprehensive information about the two collections including materials, functions, history and more. Let's see how they stack up against one another in comparison.
History of Yacht-Master
The Yacht-Master is a representation of the privileged connections between Rolex and the sailing industry that traces its origins back to 1950s. One of the newest pieces of the Rolex catalogue, it was the first new design since the Sea-Dweller in 1967, 25 years before.
Nevertheless, it wouldn't release its first high-end sports watch intended for maritime operations until 1992.
Released with a white or yellow gold case and white dial, the reference 16682 was a trendy and ultra-luxury sport watch is created with several sturdy attributes like waterproofness, accuracy, and dependability, among others.
Since then, it has become one of their most diversified watch families, with two independent models and numerous of dial, bezel, and bracelet configurations from which to choose.
The Yacht-Master is a popular choice amongst celebrities such as Ellen DeGeneres, Brad Pitt and Bruce Willis.
Our Choices
Rolex Yacht-Master 16622
A bidirectional platinum bezel with refined edges, gleaming platinum dial, and complementing red seconds hand give this watch a sophisticated and dashing presence on your wrist.
It has an automatic in-house movement with Nivarox hairspring and KIF anti-shock system. It beats 28,000 vibrations per hour and has a 48 hour power reserve.
History of Submariner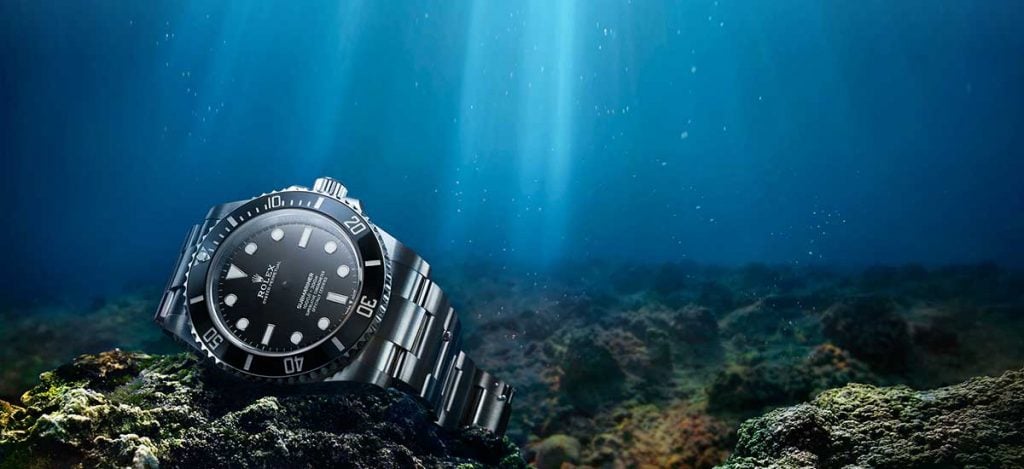 A timepiece that has stood the test of time, highly sought-after, and become an icon in the watch world. Precise and simple and timeless design. The superlative chronometer.
Engineered specifically for underwater diving and exploration, the Rolex Submariner has come a far way since 1953. Waterproofing, durability, and overall performance.
It was tailored to the needs of diving and underwater exploration, but since then it has become a versatile and all-round watch. Great for everyday wear or as business attire, it can be worn out of water for various hobbies and sports.
Although it wasn't the first official dive watch, the Submariner was the first to enable divers to descend up to 100 meters. Dubbed the "reference among divers' watches" by Rolex, the Submariner established a clear criterion for others with its rotating bezel, water proof crown, flip lock clasp, extension link, etc.
The Institute for Deep-Sea Research in Cannes tested it for five months. The submariner also made use of the cutting-edge technologies required to produce Rolex Deep Sea.
"In the early 1950s, Rolex developed professional watches that served as tools and whose functions went far beyond simply telling the time.
These watches were intended for professional activities, such as deep-sea diving, aviation, mountain climbing and scientific exploration. The watches generated lasting enthusiasm and became known as the watches of achievers." – Official statement from Rolex
In the late 1960s, Rolex debuted Submariner models with date windows, expanding the collection. In addition, Rolex eventually extended its collection to also include two-tone and full gold variants.
Unsurprisingly, Rolex upgraded the Submariner's water resistance over the course of history to 300 meters.
The Submariner has been seen in movies on the wrist of Sean Connery in Dr. No and Goldfinger. Other wearers include Che Guevara, Steve McQueen, Russell Wilson, and Tom Hardy.
Our Choices
New 41mm case
Larger bracelet, narrower crown guards
Slimmer lugs
Updated movement – either in-house Rolex caliber 3230 (no date), Caliber 3235 (with the date)
New 41mm case
Slimmer lugs
Matte black dial to match ceramic green bezel
Updated movement – Caliber 3235
The brand's iconic dive watch, the Rolex Submarine 16610 is a favorite among collectors. This date version features the classic features found in the production years 1987-2010.
The Bezels
Submariner Bezels
The unidirectional diving bezel is also black and features Rolex's Cerachrom ceramic inlay as opposed to the traditional aluminum. Cerachrom is a particularly scratch-resistant material that will not fade in sunlight, which was the case with earlier models.
The numbers and markings on the 60-minute scale are engraved in the bezel and coated with a platinum PVD layer. These graduations help the wearer to monitor their time underwater. The original models featured a bi-direction, but since then are now using unidirectional
Available in green, blue and black, these bezels match their respective dial colors.
Yacht-Master Bezels
Bi-directional bezel graduated to 60 minutes has raised numerals and available in. Depends on metal or alloy used for case, but available in Matte Cerachrom, 18k Gold, and 950 Platinum
The Cases
Both models feature Oyster casing. Developed by Rolex in 1926, it was the first waterproof wristwatch case to be made. The case is made from 904L steel known as "Oystersteel", which is highly resistant to a number of different forms of corrosion.
It is produced in-house and is comprised of a low-carbon stainless steel that has nickel, chromium, copper, and molybdenum. Also, it has higher corrosion resistance vs 316L steel, which is the standard go-to material for the majority of the watch cases.
It consists of screwing down the winding crown, bezel, and case back. It also has a Rolex designed triplock waterproof system, which means it has three sealed zones for superlative water protection up to 300 meters. It also is shock-resistant and protects it from dust and pressure.
Today's Rolex Oyster case comes in a variety of metals, including stainless steel, steel and yellow gold (Rolesor), 18k yellow gold, and 18k white gold.
Submarine Case
Sizes include: 37mm (discontinued), 40mm, 41mm
400 meters of water resistance
On the top of the watch has an anti-reflect sapphire crystal.
There is a coast of AR on the bottom side of the sapphire crystal so it doesn't lose its luster. There is a satin brushed finish on the lugs and polished sides of the case.
There is a Rolex Laser Etched Crystal, which is basically a minute laser-engraved Rolex hologram at the 6 o'clock position.
Yatch-Master Case
Sizes include: 29mm (discontinued), 35mm (discontinued), 37mm, 40mm, 42mm
100 meters of water resistance
Sapphire crystal with a Cyclops lens for ostensible reading of the date.
Rolesium, special metal combination only featured on the Rolex Yacht Master
The Bracelets
Submariner Bracelet
Submariners come with an Oyster bracelet (comes in 18k yellow gold or white gold) that has a Oysterlock safety clasp and Glidelock extension.
Yatch-Master Bracelet
Depending on the model, wearers can choose between an Oyster bracelet or Oysterflex bracelet. The Oysterflex bracelet is a rubber bracelet that has an internal flexible metal blade. A wearer can secure the watch around the wrist with an Oysterlock safety clasp and Glidelock extension.
The Movements
Both feature certified Swiss chronometers tested movements and have power reserves from 48 hours to 72. This means they have passed several tests under extreme conditions.
Submarine Calibers
3130 – Automatic in-house movement with Parachrom hairspring and KIF anti-shock system to support the wheel. It beats 28,800 vibrations per hour and has a 48 hour power reserve.
3135 – Automatic in-house movement with Nivarox hairspring and KIF anti-shock system. It beats 28,800 vibrations per hour and has 48 hour power reserve.
Yacht-Master Calibers
Caliber 2236 – Automatic in-house movement with Syloxi (silicon) hairspring and Paraflex anti-shock system. It beats 28,800 vibrations per hour and has a 55 hour power reserve.
3135 – Automatic in-house movement with Nivarox hairpsring and KIF anti-shock system. It beats 28,000 vibrations per hour and has a 48 hour power reserve.
3235 – Automatic in-house movement with Parachrom Blue hairspring and Paraflex anti-shock system. It beats 28,800 vibrations per hour and has a 70 hour power reserve. It contains technology protected by 14 patents and one example is the Paramagnetic Oscillator that has a new balance staff for enhanced resistance to magnetism. Rolex considers this to be a "Superlative Chronometer" and two times as precise than officially certified chronometers.
The Dials
The Gilt Dial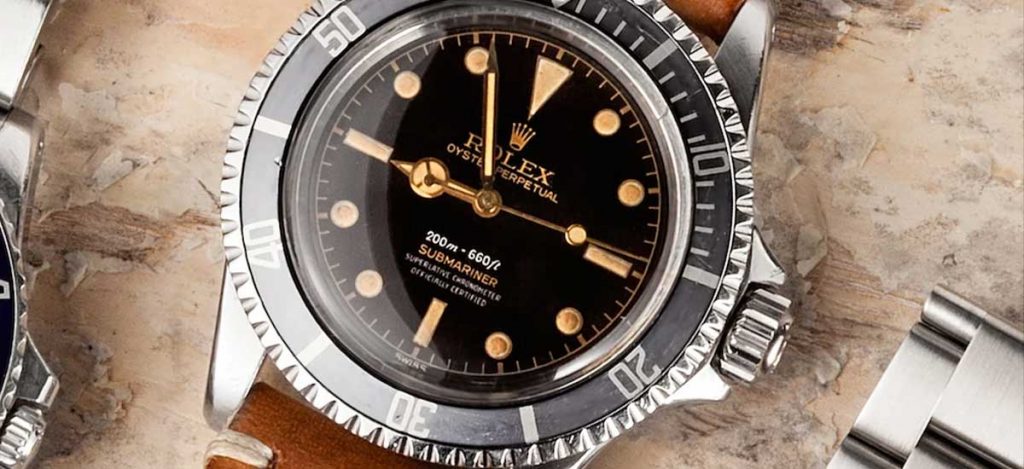 Produced from 1950s to 1967.
The initial edition of Submariners were manufactured with glossy gilt dials, which have gold text and detailing against a glossy black background.
Unlike the majority of other manufacturers that painted over inscription and dial indicators, Rolex employed the highly technical galvanization technique to paint over the dial's lettering and markings. These dials reflected light in a way that is unique and unmatched by paint or ink cans.
Luminous markers that were coated in an illuminating radioactive chemical (like tritium or radium) have since grown old and developed a golden hue.
Due to it's limited and short production, these vintage dials are the most valuable and sought after.
The Matte Dial
Produced in the 1960s
With adorned tritium markers and white writing on a flat, grayish-black surface, Rolex's new matte dial was shown. These plots are displayed against a flat, somewhat textured (non-glossy) background.
Although vintage, they have a more modern and functional look. Furthermore, they are more valuable, accessible, and affordable in the secondhand market.
The Gloss Dial
Produced in the 1980s
Rolex Submariners with gloss dials that accentuated a glossy black surface with white text and hour markings were the first "modern" Submariners.
It featured a white gold border around their stunning plots. A more opulent and modern aesthetic was produced by the glossy finish and applied 18k white gold markings.
Gloss dials dominate the secondary market.
The Maxi Dial
Produced in 1992 to present.
The most recent Maxi has a traditional appearance with larger, easier-to-read hands and more prominent hour markings. The "Super Case," which has thicker lugs and a broader bezel for a bulkier appearance, is coupled with a new bracelet.
It first appeared with the unveiling of the 50th anniversary edition reference number 16610LV "Kermit." It is still being made for all current Rolex Submariner timepieces.
Yacht-Master Dials
The Yacht-Master's dials have been available in various of colors and materials over the years, including the stunning blue dial on the ref. 116622 and the opulent platinum dial on the now-discontinued version.
The Yacht-Master was the first model to use Rolex's Maxi dial and was the final component that appeared with this watch.
There's no doubting that the face is more legible thanks to the wider indexes and fatter hands, which have generated just as much controversy as the Super Case. There are two dial choices available for the ref. 126622: dark rhodium and sunburst blue.
The rhodium dial provides a monochrome look, broken up only by the vibrant turquoise on the seconds hand and a single line of text because the platinum and steel used to construct the watch are both white metals.
As an alternative, the blue is becoming popular because of its sparingly applied vibrant red accent on the seconds hand and the "Yacht-Master" writing.
Sunray Dials
The sunray dial is produced usually using a base coat of silver plating followed by the addition of extra color to achieve the desirable effect. Pure metallic colors like ruthenium, champagne, and silver can be manufactured with this method.
The dial's rays travel out from its center in ultra-thin lines, creating a delicate texture and shift in light. It is primarily made up of metal filaments and is applied with a brush. The platinum bezel and blue dial form a striking combination.
Yacht-master has sunray dials available in silver, blue, champagne, rose gold, and rhodium.
Mother of Pearl
Mother of pearl is appreciated for the gorgeous iridescence it generates, which gives it a sophisticated look. When viewed from various angles, these dials appear to change color. Every dial is different and special since it is made from natural materials.
The origin of the pearl, the environment in which the mollusk lived, and the portion of the shell from which it was removed all affect color and intensity variations.
In Yacht-master models, the two most prevalent colors are the iridescent white mother of pearl and the black mother of pearl, which changes from pink to gray and even green.
Rolesium Dials
The Yacht-Master is made of the Rolex-developed material called rolesium, which is an alloy of platinum and 904L stainless steel. It is not available on other models. The bezel is constructed entirely of 950 platinum and rotates in both directions.
It has a notched ring with 120 gradations. Except for the polished raised numbers and indexes, it has a smooth, sandblasted surface. Because of its silvery whiteness, platinum shines brightly and vibrantly, conveying a sense of elegance and opulence.
'Inverted dials'
Black baton and dot hour markers are highlighted in gold and placed on top of a crisp white dial. The dial's white background stands out against the stark contrast.
Rolex added tiny, inward-pointing bright triangles to the inside of the black-filled hour markers, which they paired with the lume-coated hands to create instead of glowing hour markers. However, they are hardly recognizable against the white dial during the day.
Serti Dials
Yacht-Master has serti dials, which are set with priceless stones like diamonds, sapphires, and rubies. The word "sertissage" is a French term that meaning "gem-setting."
Typically, these dials have markers constructed entirely of rubies and combine diamonds and sapphires. The Mother of pearl dial is frequently used to give an opulent and sophisticated look.
Conclusion
A casual glance might suggest that both items are similar. Their dial designs, Mercedes handsets, case shapes, and 60-minute time bezels are identical.
Yatch-Master Differences
In contrast, the bezel numerals on the Yatch-Master are raised rather than etched, and bezel inserts are offered in matte black Cerachrom, Everose gold, or platinum.
A bidirectional rotating bezel with distinguishable indicators.
Some models house "Superlative Chronometer", the 3235.
Owners have the option to wear the sportier Oysterflex bracelet.
Exclusive Rolesium dial design.
The case back is flatter and smaller, but it only boasts 100 meters of water resistance.
Submariner Differences
The Submariner is more suited for scuba diving. It has a unidirectional rotating bezel that makes it possible to monitor your dive time.
It has 300 meters of water resistance and shorter power reserve.
Overall
The YachtMaster is a more sporty aesthetic and is sleek and showy. It's slimmer lines with polished lugs make it a great dress option.
While the Submariner is a low key choice and its brushed surfaces aren't overly loud, but will still be noticed.
You can't go wrong with either one and both are great watches!