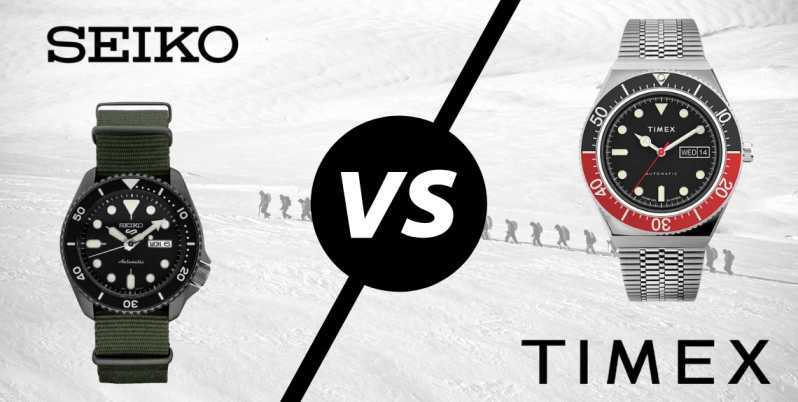 Seiko vs Timex: Brand Comparison
Are you looking for another exquisite brand to add to your coveted collection of high-end watches? As a luxury watch enthusiast, you might like both Seiko and Timex, globally renowned brands, but you also might want to know which is the better option. Both are top brands with a rich history and remarkable innovations that changed the landscape of horology. Let's find out which timepiece is the better option, Seiko vs Timex, by comparing them on various parameters.
Seiko vs. Timex: History
Seiko History
Seiko is an incredibly renowned Japanese company that started manufacturing high-quality wristwatches in 1924. Seiko is one of the most consistent brands in the watch industry that has held people's attention across the globe with innovative technology and created a huge name for itself. It is credited with introducing the quartz movement watches in 1969 by launching the Astron series. Further, with the introduction of solar-powered watches in 1977 and Spring Drive movement technology meant for space travel, the company pushed the innovation boundaries like never before. Seiko's foresight is commendable as its innovation has laid the future of the ever-growing watch industry.
Seiko has been associated with Tokyo Games in 1954 and international sports with its world-class technology. The brand has become a name synonymous with reliability and has provided timing systems to several international class events, including ten world championships and five indoor championships. It continues supporting an array of international sports.
Timex History
Timex, a famous US watchmaker, was established in 1854, and the company started manufacturing beautifully designed watches that instantly became popular. The brand holds the feat for manufacturing the first sports watch, Ironman, designed for triathlon. It is a highly durable and excellent timepiece. It is embedded with great functionalities, including 330 feet water resistance, and is highly durable, making it an ideal watch for athletes.
Seiko vs. Timex: Models
Seiko has held on to the tag of exclusivity with the best watches in its few collections, which includes Spring Drive watches, GPS solar-powered watches, a fabulous range of mechanical watches. It also sells quartz watches and Kinetic and Kinetic Drive watches. Whatever it offers is a complete masterpiece in itself. The Astron, the world's first GPS solar watch, or the Prospex, a highly durable and rugged watch, is a perfect device for athletes and adventure sports enthusiasts. Every collection is brimming with innovation that meets global standards. The Presage collection is a fine amalgamation of Japanese traditional craftsmanship and advanced mechanical engineering. The result is a timepiece that transcends time and becomes a matter of pride for the owner.
The Seiko 5 Sports has redefined the parameters for manufacturing sports watches. With 50 years of commendable history, the collection is dedicated to sports lovers who need a perfect companion to withstand adversity and last for a lifetime. Another fabulous collection is the Seiko Premier for men and women that can be described as a thoughtful collection of prestige, style, and innovation. The Premier collection is the Grand Seiko, the perfect luxury watch that offers a beautiful and harmonious amalgamation of advanced technology and refined craftsmanship that's here to stay forever.
Timex Models
Timex has an extensive collection of watches for men and women in different types ranging from chronograph watches, military watches, leather and sports watches, and so on. The beautiful and sturdy collection is available such as Ironman, Standard, Navi, Command, Easy Reader, Expedition, Fairfield, and Waterbury. An equally fascinating range of watches is available for women: Celestial Opulence, Easy Reader, Expedition, Ironman, and Waterbury. Timex offers watches for kids as well.
Seiko vs. Timex: Innovation
Seiko Innovations
Watches with mechanical caliber are much more appreciated as they are considered a real revelation of traditional craftsmanship that speaks volumes about the brilliance and dedication that goes into manufacturing them. But a keen watch collector or an eager watch enthusiast will always welcome an innovative timepiece that can offer mechanical movement and the swiftness of a quartz crystal. Seiko has achieved this incredible feat with its Grand Seiko Spring Drive collection that delivers the best of both worlds. The Caliber 9RA5 is a natural progression of the brand towards exploring technology and creating history in horology.
Timex Innovations
The Timex brand has proved its technological advancements with the introduction of refined timepieces. But it can be said that Seiko is much ahead in the race to innovation in terms of form, function, and precision with cutting-edge technology.
Sports Watch: Seiko or Timex?
Seiko has created a benchmark when it comes to manufacturing watches dedicated to sports. The Grand Seiko collection is an example of how well technology can be leveraged to bring out the best in timepieces.
The Grand Seiko 60th Anniversary Limited Edition Professional Drivers' 600 M offers a better version of the Spring Drive Technology, paving the way for a technologically superior future in the arena of dive watches. The exquisiteness and leading-edge technology in the watch are significant attractions for people who love to keep pace with time and technology.
The Timex Ironman is packed with several features that make it an ideal timepiece for athletes. It acts as a personal running coach providing you all the stats you need to keep a watch on your fitness journey. A rugged watch preferred by athletes, runners, it is a decent player in the high-end sports watch category.
Perception Value
Seiko Brand Perception
Seiko is considered a high-end luxury watch tailor-made with perfection and precision. It boasts of sophistication meant for a particular section of the society.
Timex Brand Perception
Timex has cemented its place in the watch industry with its high quality, superb craftsmanship, and accessibility. It is a high-end luxury watch that meets everyone's requirements looking forward to buying a luxury watch at affordable prices. It can be safe to assume that Seiko has a better-perceived value compared to Timex.
Price
Seiko Price
Seiko watches come with a tag of exclusivity. It's not an affordable option for everyone, so it has selective buyers who love to buy timepieces that rank higher in quality, exclusiveness, and prestige.
Timex Price
Timex, however, is also a luxury brand but is also known for accommodating the affordability factor. Their watches are accessible for most people and allow many people to buy high-end watches. It is undoubtedly good news for anyone interested in purchasing luxury watches, but the affordability factor certainly takes away from the prestige factor, and thus Seiko gains an upper-hand when it comes to high-end luxury watches.
Brand Recognition
The brand value of Seiko is undoubtedly higher than that of Timex. The former continues to enjoy immense popularity as one of the leading luxury watches in the world. It's a name synonymous with prestige and luxury, and it is frequently compared to Rolex.
Timex is a luxury timepiece, but Seiko has a distinct perception of being a brand that sets itself apart in watchmaking art and is known for pushing boundaries in technology and innovation.
Cutting-Edge Technology
Seiko introduced Japan's first diver's watch, and it is used worldwide by divers. The watch is made of specialized material and uses Japan's first hi-beat caliber. It is the world's first watch manufactured using titanium to meet the requirement of corrosion resistance, which also makes it ultra-light. It is embedded with an outer case protector that provides shock resistance.
The trust in Seiko technology and its focus on innovation can be gauged because the company enabled the establishment of the standard for the diver's watches in the International Standard Organization and Japan Industrial Standards. If you are looking for an ultra-rugged watch, then Seiko's Diving watch is the perfect timepiece.
Timex offers a wide range of water-resistant watches, which provide water resistance capacity up to 100 meters. Timex's Ironman 300GPS collection is an excellent example of technological advancement. When it comes to innovation, Seiko earns more points than Timex.
Warranty
Seiko Warranty
Seiko provides a certificate of limited warranty. The first-year warranty is applicable worldwide, and the second and third-year warranty is valid for service only in the United States. With the proof of a limited warranty certificate within three years from the date of purchase, the company provides free repair and adjustment service against any defects on the watch head, including the movement and the case, along with the metallic service. It offers an extended warranty on the Seiko watches from the fourth year of the purchase's original date. If there's any defect in material or artistry, the company is liable to repair the watch. The warranty applies to replacement parts or movements and is subject to certain conditions.
Timex Warrenty
Timex offers a warranty for one year from the original date of purchase against manufacturing defects. The warranty is subject to specific terms and conditions.
Final Verdict
With the factors mentioned above and taking the history into account, which focuses on innovation and detailed artistry, it is clear that Seiko wins the debate hands down and is a better option than Timex in the luxury brand watches category. Go ahead and buy this exquisite brand that's going to be a prestigious part of your timepiece collection!
About Exquisite Timepieces
Established in 1998, Exquisite Timepieces is your one-stop shop for all things luxury watches! We are an authorized dealer for 60+ luxury watch brands including Omega, Hublot, Seiko, & Longines! We are proud to showcase one of the world's largest pre-owned watch collections, including renowned brands like Rolex and Patek Philippe. Check out our brand new watch arrivals here and popular pre-owned listings here.