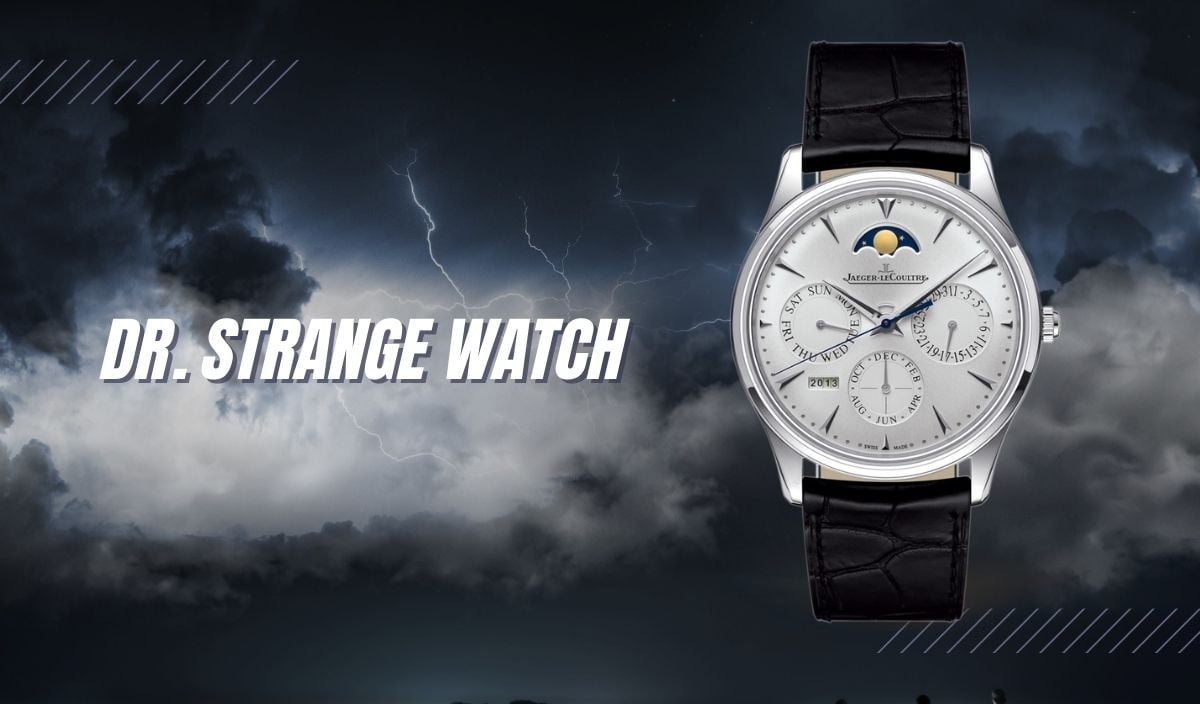 On the surface, esteemed neurosurgeon Dr. Stephen Strange seemed to have it all. He had fabulous wealth, a highly successful career, respect from his peers, and a blooming romance with fellow neurosurgeon Dr. Christine Palmer.
Little did he know that his life was totally about to change, moving away from the concrete jungle of New York to a mystical world of magic and marvels. Strange eventually becomes something almost supernatural, but the one thing that does ground him to reality is his wristwatch.
About the Dr. Strange Watch
Accompanying Dr. Strange on his psychedelic journey that takes him everywhere from the slums of Nepal to a dimension parallel to our own is his Jaeger LeCoultre Master Ultra-Thin Perpetual. For Strange, this watch is the only thing he has left to remind himself of his past life after his spectacular fall from grace.
Strange took immense pride in his work as a neurosurgeon, and this turned him into quite an arrogant person. While driving to a conference, Strange becomes distracted while driving and crashes his Lamborghini Huracán, sending him tumbling down the cliffside. He miraculously survives, but at an enormous cost: the use of his hands.
It is because of his desperation to heal his hands that Strange goes through numerous treatments to no avail. He eventually learns about a treatment that goes beyond medical science and travels far to seek the truth. The Jaeger LeCoultre Master Ultra-Thin Perpetual is not only an amazing part of Strange's attire but also an enormous significance in the film.
Strange cherishes this watch so much because it is a gift from his love, Christine. Engraved on the watch's caseback is the sweet quote, "Time will tell how much I love you". These words comfort Strange when times are difficult, and as a future Sorcerer Supreme and Master of the Mystic Arts, life can only be complicated.
Jaeger-LeCoultre Master Ultra-Thin Perpetual Calendar Review
Of course, the most interesting thing about the movie for watch enthusiasts is perhaps the stunning Jaeger-LeCoultre Master Ultra-Thin Perpetual Calendar. This watch is prominently featured in scenes throughout the film, and its gorgeous moonphase complication is easily seen from afar.
Jaeger-LeCoultre is sometimes referred to as "the watchmaker of watchmakers" for a good reason. The brand earns its reputation with classic, timeless designs and a staunch dedication to creating incredible timepieces.
JLC is known for various iconic designs, such as the Reverso and the Master Ultra-Thin. The watch featured in the movie is a pinnacle of watchmaking skill, with a perpetual calendar complication and a gorgeous, starry moonphase at the 12 o'clock position.
True to its name, the mechanics behind the watch are housed in a razor-thin case that is just another display of impressive watchmaking. One of the most attractive features of the watch is the paper-thin case width of just over 9mm.
Achieving this level of thinness is something only the most trained watchmakers can achieve. Much thinking must go into the design before such thinness becomes possible. This is a tough task because every part of the watch must be scrutinized even more than normal.
Unnecessary thickness is shaved off until all that is left is a movement that breathes life into the timepiece. Due to its thinness, the watch will easily fit under any suit jacket or shirt cuff. The Master Ultra-Thin Perpetual is 39mm in case diameter, which is suitable for any wrist size.
It is the perfect size for any gentleman fortunate enough to enjoy this horological masterpiece. The dial is truly a showstopper and will immediately draw attention to it. The perpetual calendar elegantly displays everything a person needs, magical superhero or not.
Perpetual calendars are named because they will keep track of various details like month and day of the week extremely accurately as long as the watch is running. They will provide accurate information on the day of the week, date, year, leap year, and phase of the moon.
Perpetual calendars don't need to be adjusted by a watchmaker until the end of the century due to their complicated mechanics. It takes into account the number of days a month has and even tracks leap years. The watch on Strange's wrist has a silvery-white dial and sharply cut silver hour markers.
The deep blue, starry moonphase is located at the 12 o'clock position, cut inside of an elegant crescent shape. At the 3 o'clock and 9 o'clock positions are the date and day of the week, respectively. At the bottom of the watch at the 6 o'clock position is the month, and next to it is a small rectangle for the year.
Hidden behind the hands is a small day and night indicator. With just one glance, a wealth of information can be learned. The movement for the Master Ultra-Thin Perpetual is JLC's Calibre 868. This automatic winding movement beats at 28,800 vibrations per hour, has a power reserve of 38 hours, 46 jewels, is water resistant up to 50 meters, and is carefully assembled out of 336 parts.
This movement manages to power the perpetual calendar and the watch while being an astonishing 4.72mm in thickness. The beauty of this mechanical movement can be viewed through an open sapphire caseback. Of course, the timepiece in the movie is customized, with Christine's special message for Strange etched into the caseback.
The strap is inky jet-black leather with careful stitching on the side and large rectangular alligator scales. The lug width is 21mm and is interchangeable for personal customization. Keeping the watch secured to the wrist is a double folding, stainless steel clasp. Both the strap and the clasp can be swapped out quickly due to its quick-release feature.
What Other Dr. Strange Watches Are Out There?
Before Strange's unfortunate brush with fate, he was seen confidently preparing for his night out. After tidying his bowtie, he opens up his drawer and reveals a breathtaking watch collection. Audiences can only gasp as they view the opulent collection. All of his watches are on winders that will keep their movements functioning.
He has some truly stunning (and expensive) watches that suit his lucrative career as a successful New York neurosurgeon. We only get a glimpse of his luxurious collection for a few seconds, but below are a few others that he owns besides his Master Ultra-Thin Perpetual.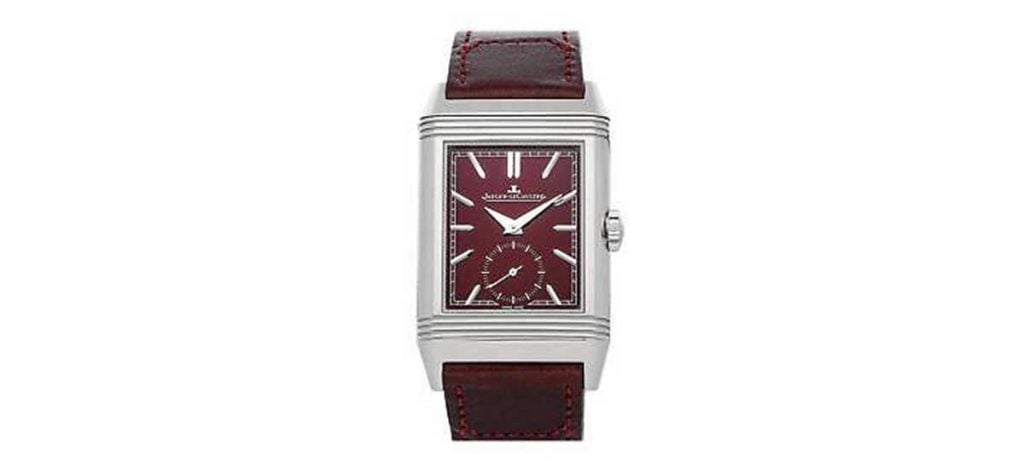 What's better than one JLC watch? How about two JLC watches? JLC evidently ensured that their watches were featured prominently in the superhero movie. In addition to the Master Ultra-Thin Perpetual, Strange also owns another iconic watch from JLC, the Reverso.
The Reverso was originally designed to protect watches during polo matches. The solution was to have a case that could be flipped over, covering the watch face and revealing a smooth, stainless steel shield instead.
This reference number comes in various colors, from a classic dark black to a subdued burgundy. The timepiece is an attractive and exciting rectangular shape, with 45.6 x 27.4mm dimensions. There is no date on the dial, which helps preserve the watch's delicate symmetry.
At the 6 o'clock position is the expertly placed small seconds. The silvery hour marks and surgically cut dauphine hands shine in the sunlight. The strap snugly fits between the 20mm lugs and seamlessly wraps around the wrist. The movement is the JLC Calibre 822, featuring a 42 hours power reserve, 21,600 vibrations per hour, and 19 jewels.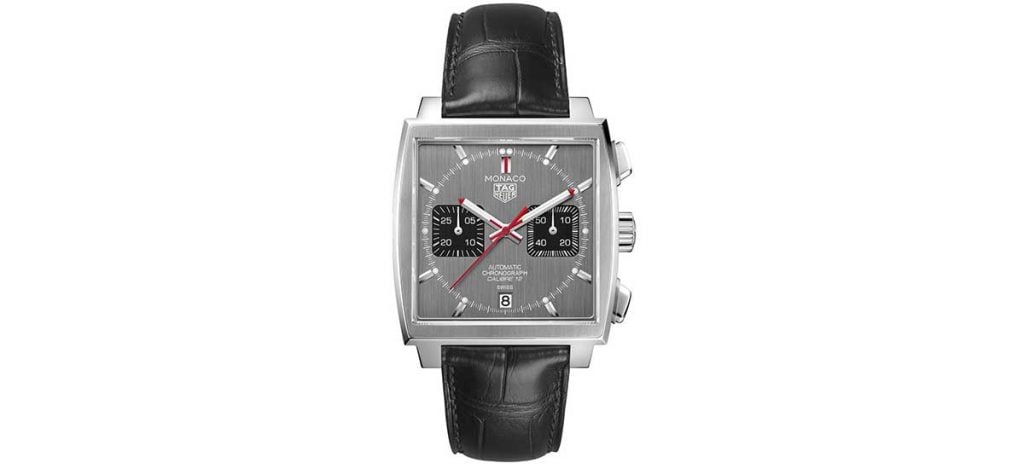 A Tag Heuer Monaco has its place in any luxury collection, and this limited edition Monaco is no exception. The Monaco is one of Tag Heuer's most famous watches, being worn by the likes of Steve McQueen and Chris Hemsworth.
The masculine square shape is bold on the wrist and a voluminous 39 x 39mm. This 39mm looks even larger with the watch's square shape. Limited to only 1,000 pieces worldwide, the Caliber 12 Final Edition is a granite grey color with a vertically brushed ruthenium dial. Engraved on the caseback is each watch's unique limited edition number.
The strap is a classy black alligator leather with a bright red underbelly. Powering this racing-inspired watch is the Calibre 12 Automatic. This chronograph movement has a 40-hour power reserve and beats at 28,800 vibrations per hour.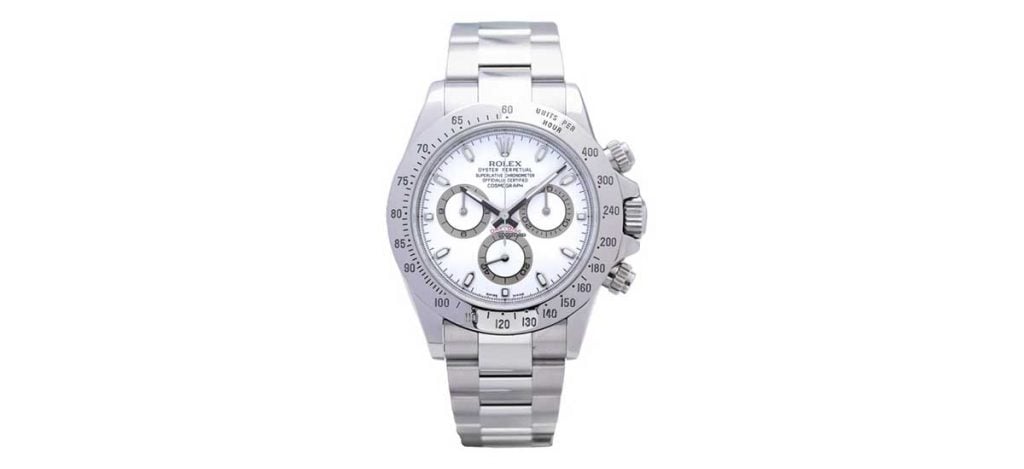 Rolex is, for many, the peak of luxury watches. Ask someone to name a luxury timepiece, and Rolex will probably be the first brand that comes to mind. In Strange's collection is the Rolex Daytona with a white dial. Also known as the Cosmograph Daytona, a word of Rolex's creation, this chronograph is one of Rolex's most desirable models.
There is simply no mistaking this watch, with its chunky chronograph pushers, red Daytona lettering, and tachymeter etched into the bezel. Originally used to help racecar drivers track elapsed time and average speed, the watch is now one of Rolex's most luxurious and expensive models.
The Daytona is 40mm in diameter, which makes it a modern-sized watch for any wrist. The sub-dials feature the 30-minute and 12-hour markers, with the seconds located at 6 o'clock.
The chronograph works in conjunction with the etched tachymeter on the bezel to help track driving speeds. Powering the Daytona is Rolex's caliber 4130 movement, which is easier to service than previous Rolex chronograph movements due to using fewer parts. It has a considerable 72-hour power reserve and has 100 meters of water resistance.
Conclusion
Although he eventually became a superhero that protects the Earth from cosmic threats, Dr. Strange's watches are still very much an important part of his extraordinary life. Watches mean a lot to different people, and for Strange, they represent a memory in the distant past.
They are what ground him in the everyday worries of ordinary people and remind him about a time of lost love. Strange certainly has an impressive watch collection, and it is a treat and privilege for all of us to enjoy it with him.