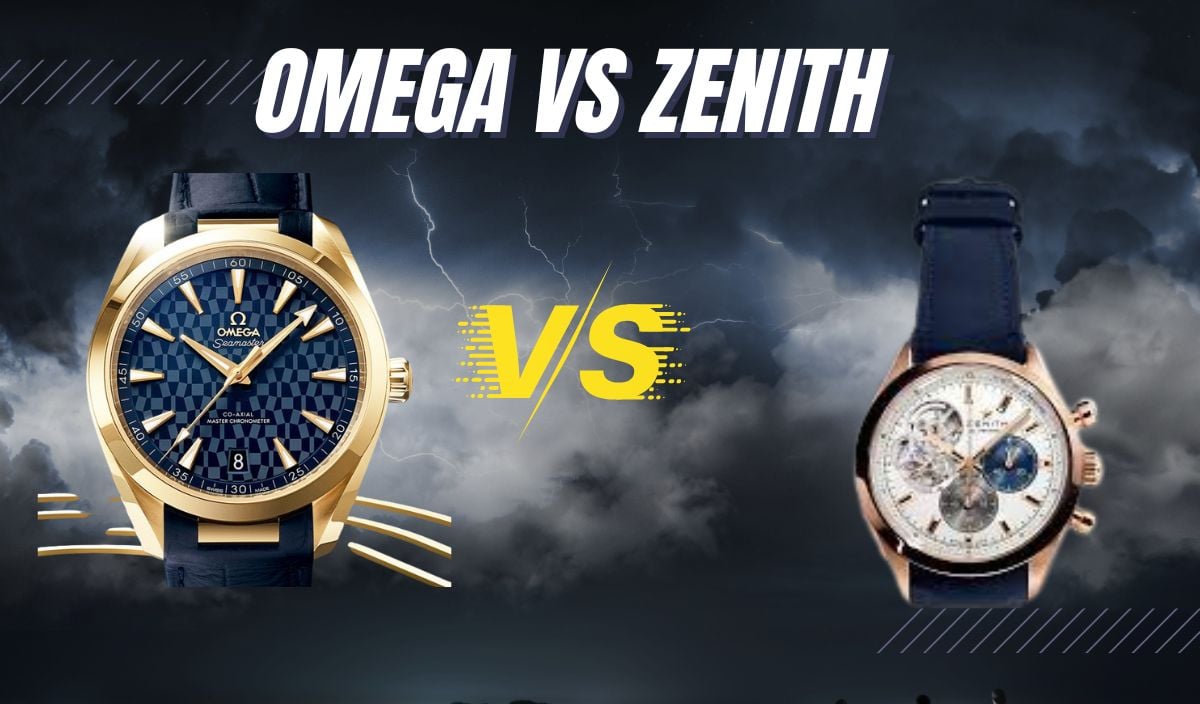 It's an urge…every watch enthusiast has felt it, and every aficionado has had a taste of it; the desire to own an elegant timepiece that doesn't only provide infinitesimally accurate timing but offers a fantastic investment opportunity along with the satisfaction of owning a piece of excellent craftsmanship.
But with a handful of luxury watches coming with different distinctions and qualities, help is often needed to determine the best watch for your satisfaction, especially when it is between two Swiss watches that are highly comparable.
In this guide, we will reveal everything you need to know when choosing between Omega and Zenith watch brands. Why Omega and Zenith? Well because these brand's artifacts are iconic among hundreds. Let's delve in!
Omega's history
Omega, the one brand that today can go head to head with the popularity of Rolex, was founded by Louis Brandt in 1848. It all began in a small Swiss village called La Chaux-de-Fonds when Louis, then 23 years old, established a workshop that he operated as La Generale Watch Co.
He started by gathering parts from local craftsmen and using them to develop key-wound precision pocket watches which he distributed to his major buyers in Italy and Scandinavia. Louis's sons picked up where he left off after his death and after small-scale production for 37 years, La Generale Watch Co released its first mass-produced caliber movement, called Labrador.
Following the success of Labrador, it quickly rose to fame by releasing the first minute-repeating timepiece in 1892 and the 19-line OMEGA Caliber in 1894. By 1903, La Generale Watch Co had become a world success after establishing a reputation for reliability and precision with over 200,000 watches produced annually.
It enlarged its distribution network rapidly – thanks to the global demand for its iconic watches – and spun off Omega Watch Co officially in 1903.
By 1932, Omega was world-renowned for unprecedented precision (The Omega chronometer could tell time more accurately than any other watch in circulation at that time) and became the official timekeeper of the Olympics with a global reach and increased market shares because along with its iconic timepieces, it adopted profound business ideas like premium pricing, tighter control of dealer pricing, and top-notch advertising, establishing its place in the watchmaking industry.
Zenith's history
Currently operating under the umbrella of the LVMH Group, Zenith is one of the oldest continuously operating watch brands today. It was first known as "Fabrique des Billodes" and was founded in 1865 by the visionary Georges Favre-Jacot in Le Locle in the canton of Neuchâtel. He began with the production of precision pocket watches and moved further to the production of board chronometers, table clocks, wristwatches, and precision pendulum clocks
Gradually, the production of marine chronometers began and this marked the beginning of the creation of mechanical marvels that challenged the foundations of traditional watchmaking, even leading to a Grand Prix award at the 1900 Paris World's Fair, for its "Zenith " movement. Subsequently, Georges Favre-Jacot renamed his watch company, (George Farve-Jacot & Co) "Zenith" in 1911 because he believed it represented the apex of precision.
Marking an enormous leap forward, Zenith began work on an automatic chronograph movement, "El Primero" which was launched in 1969 and unlocked the world of hundredth-of-a-second timing with the release of its Defy El Primero 21 ( a high frequency, low amplitude movement that is about ten times more accurate than a standard chronometer) and quickly took its place as one of the most innovative watchmakers in history. Today Zenith has developed over 600 movement variations and has an unrivaled record in the field of precision instruments with over 2, 000 chronometry awards.
What is Omega known for?
Short answer; pushing boundaries. Long answer; from being the first watch brand to provide excellent resistance to magnetic fields, (the Omega Seamaster Aqua Terra > 15,000 gauss for instance used components that were made of non-ferrous materials, surpassing the standard use of a soft iron inner protection case to resist magnetic fields), to having the first most accurate timepiece produced on the planet (when it set an all-time precision record after undergoing six trials at the Geneva Observatory, making it the official timekeeper of the Olympic Games), Omega is known for its sporty chronographs, co-axial movements, and professional dive watches.
Over the century, It has risen to be one of the most respected luxury Swiss watch brands with a rich horological heritage, that continues to challenge the watch world today by creating some of the most expertly crafted timepieces ever. Recently, its catalog comprises four major collections, namely the Speedmaster ( AKA The Moonwatch), Seamaster, De Ville, and Constellation.
What is Zenith known for?
Short answer; classic designs and highly accurate movements.
Long answer; outside of the vintage market, Zenith is renowned for providing a range of high-end, heritage-driven luxury watches in addition to the hyper-technical and fashionable modern Defy series. Their technological innovations have made Zenith a leading brand in the manufacture of high-frequency chronograph watches ( talk about its El Primero automatic chronograph) that even Rolex's new Daytona could be powered by. ( a modified Zenith El Primero movement, "the Calibre 400" was the foundation of the new Rolex 4030 movement).
Zenith watches have rightly been referred to as the "beater watch" because they can endure punishment and maintain impressive accuracy at the same time. Zenith Defy collection for instance which began in 1969 features sporty, rugged watches with distinctive designs. It currently produces 32 different models for a total of five collections, namely; Academy, El Primero, Captain, Pilot, and Heritage.
Style
Style plays a key role when it comes to choosing between two highly comparable timepieces. Fortunately, both brands offer very stylish-yet-practical watches. From the timeless trend of stainless steel to watches with leather straps, the common denominator of both Swiss brands is their uncompromised style and horological excellence.
Omega's Constellation watches range from hands-down elegant dress watches to robust dive watches while Zenith continues to release elegantly finished timepieces for every watch lover in numerous styles.
Accuracy and Precision
Omega's historic passion for accuracy and precision began as far back as 1931, at the Geneva Observatory trials where it broke the record for precision in all six categories. It has built its reputation on revolutionary watch movements and kept its spot as one of the world's most accurate timepieces that subjects both its watch movements and completed timepieces to Master Chronometer testing for at least ten days to get an unsurpassed precision.
Zenith on the other hand is known for its historically significant and high-precision chronograph watch movements. The world has watched it grow from the production of mechanical watches to watches that use a gyroscopic mechanism (the Christophe Colomb for example features a movement escapement in a Cardan suspension-style cage that always points up).
Quality and Craftsmanship
Both brands are committed to using materials that enhance the aesthetic appeal of their watches while also maximizing robustness and performance. Omega makes arguably the most accurate Swiss-made mechanical movements in the world with approximately 70% international brand recognition.
Its timepieces are prestigious and of very high quality such that they can last through many generations. Zenith equally provides technically advanced high-quality watches with top-notch materials and craftsmanship.
Resale and Warranty
ALL Omega timepieces come with a 5-year warranty while Zenith offers a standard warranty duration of two years. In offering a five-year warranty, Omega comes ahead of Zenith establishing itself as a more high-quality and luxurious watch brand. The average resale value of a Zenith is lower than an Omega because Omega's most popular models (The Speedmaster and Seamaster) are in high demand and often hold their value best on the secondhand market.
Which has a higher ranking?
Following reports published by the Swiss Watch Industry Federation and Morgan Stanley (An American investment company), Omega has a higher ranking than Zenith. From 2017 up until 2020, Omega has ranked number two in the top twenty watch brands with the larger market share. It only dropped to third place in 2021 with a 7.5% market share and an estimated turnover of CHF 2.2 billion, which is an exceptional performance for any Prestige brand.
Zenith did not feature in the top ten Swiss watch brands but turned up at number 18, which is still impressive. Again, Omega came in third in the most searched watch brands on the internet with 8,076,000 hits based on annualized average monthly search volumes provided by Google's Keyword Planner tool.
Speedmaster Pro Sapphire vs. Zenith El Primero
Omega has continually claimed the second spot worldwide in the watch model rankings because of its Seamaster and Speedmaster but the El Primero movement is undoubtedly Zenith's most enduring legacy. Can these two top-class creators of chronometer watches go head-to-head against each other? Let's take a closer look at two iconic timepieces from each collection.
| | |
| --- | --- |
| Speedmaster Pro Sapphire | Zenith El Primero (9004) |
| •Brand: Omega | •Brand: Zenith |
| •Movement: OMEGAs mechanical caliber 1863 | •Movement: El Primero |
| •Power reserve: 48 hours | •Power reserve: 50 hours |
| •Type: Manual-winding ( the famous manual-winding chronograph movement that was used on the Moon) | •Central chronograph hand that makes one turn each second. |
| •Features: Chronograph, Tachymeter, Small seconds | •Features: 1/100th of a second Chronograph |
| •Bracelet material: Steel | •Bracelet material: Titanium |
| •Case material: Steel | •Case Material: Brushed Titanium |
| •Case Diameter: 42 mm, between lugs: 20 mm, and thickness: 13.5 mm | •Case Diameter: 44 mm, between lugs: 22 mm, and thickness: 14.5 mm |
| •Crystal: Domed, scratch-resistant sapphire crystal with anti-reflective treatment inside. | •Crystal: Domed sapphire crystal with anti-reflective treatment on both sides. |
| •Water resistance: 5 bar (50 meters / 167 feet) | •Water resistance: 10 bar (100 meters / 334 feet) |
| •Product weight (Approx.): 161 g | •Product weight (Approx.): 450 g |
Speedmaster Pro Sapphire
| | |
| --- | --- |
| Pros | Cons |
| •Features Sapphire crystal which is harder than hesalite. | •More expensive to replace/restore. |
| •A future classic and modernized version of the Moonwatch. | |
| •A highly collectible item that will never cease to remain valuable. | |
| •A perfect blend of historical significance, timeless design, and luxury spec. | |
| •Can be worn on any occasion | |
| | |
| --- | --- |
| Pros | Cons |
| •Steeped in history. | •Minimal folding of links means it is not ideal for people with smaller wrists. |
| •Good quality timepieces. | •Prone to scratches. |
| •Classic design that will stand the test of time. | |
| •Versatile style | |
| •Comes in 42mm to 44mm for all wrist sizes. | |
Omega Speedmaster 57 vs Zenith El Primero
Omega Speedmaster 57
OMEGA was the only watch brand to pass NASA's rigorous tests (which involved putting the timepiece through extreme conditions like high temperatures, volatile fluctuations, high-pressure levels. etc) in the 1960s. Omega Speedmaster made its mark in history when it beat Rolex, Longines, and Hamilton watches to become the official robust and reliable timepiece of the Apollo program.
Subsequently, Astronaut Wally Schirra wore Speedmaster (ref. CK2998) on his Mercury Sigma 7 Mission in 1962, making it the first OMEGA watch to enter space. OMEGA's famous Speedmaster '57 is a sub-collection of the Speedmaster family that was first introduced in 2013. While the Speedmaster 57 is sporty and elegant, it retains the traditional Speedmaster design.
The new features are two subdials, a date display, and the inclusion of a new manual-wind chronograph movement called the Omega caliber 9906. Omega further elevated the vintage spirit to a whole new level by packing this up with slimmer styling, extraordinary color, and a Co-Axial Master Chronometer engine – one of the very best automatic movements – certified as a Master Chronometer by METAS, and has twin mainspring barrels mounted in series to provide a 60-hour power reserve, in addition to Omega's customary Arabesque Côtes de Genève decoration.
The Speedmaster 57 is representative of the original, timeless look of the Speedmaster line. When it comes to prices, Omega Speedmaster watches are more affordable than Zenith El Primero (and therefore more attainable) with the price ranging from $5,000 and going up to $8,000 on the higher-end models.
Zenith El Primero
"El Primero", literally means "the first" in Spanish. Zenith's El Primero has been in production for 50 years now and has long been the most celebrated automatic movement on the market. It was the first automatic chronograph globally with the most precise chronograph in the world and made a name when it shocked the watch world by oscillating at a high-frequency movement that can measure 1/10th of a second (current top models can even time to 1/100th of a second).
From the Chronomaster to the Defy and Pilot, Zenith's El Primero collection boasts double tourbillon beats at 36,000 beats per minute, whereas the typical watch movement beats at 28,000, offering more accuracy. El Primero enjoys broad collector popularity and typically sells between $3,700 – $24, 500.
Final thoughts: is Omega better than Zenith?
Both Omega and Zenith excel in the production of high-quality movements in the history of mechanical watches. Depending on your needs, different answers can put this question to rest. If you see a watch primarily as an investment, then Omega is better than Zenith.
When it comes to accuracy and precision, it can be tricky to put one ahead of another. Zenith is credited with the production of the very first chronograph caliber and is renowned for Its precise chronograph movements (especially the El Primero series that revitalized classical watchmaking and the Swiss watch industry with accuracy and precision that relied upon its column-wheel mechanism).
The El Primero is considered the 'raison d'être' of Zenith and was even used by Rolex for the first version of the Daytona chronograph as did many other brands. Omega on the other hand is known to deliver precise and accurate chronometric watches that are certified by the Official Swiss Chronometer Testing Institute.
When it comes to ranking, Omega ranks higher compared to Zenith. Omega ranks at number two of the most recognizable Swiss watch brands while Zenith can be found at number 18. If classic styles, elegance, outstanding design, and high-quality materials are your specs, both brands offer the glamour and luxury appeal of Swiss watches.
Frequently Asked Questions
Are Zenith watches worth the money?
Yes, Zenith watches offer great value with their highly precise chronographs and are worth every cent of the dollar they cost.
Is Zenith a respected watch brand?
Zenith stands out as one of the best-respected Swiss watch brands. They are renowned for their classic designs and highly accurate movements, the likes of which were regularly used by Rolex until they started making their own in 2000
Which holds value, Zenith, or Omega?
The value of watches depends on different factors like age, scarcity & growing demand, accessories, the material used, and condition. Omega watches have been known to hold their value considerably well in the world of luxury watches, better than Zenith timepieces.