For those who grew up on 80s/90s movies, like me, we lived through a time in the action film genre that is now fading into obscurity. We no longer have films being made with strong and stoic heroes.
While some will argue that this is a good thing, I believe that there is always space in the pop-culture zeitgeist for the rough-and-tumble, take no prisoners type.
So, I'm sure it's no surprise to you that one of my favorite watch brands is Sinn, the quintessential stoic, overbuilt, rough-and-tumble brand known for its manufacturing of timepieces that can endure some of the world's most extreme conditions.
Sinn, a brand that is loved by enthusiasts and can be described as an uber utility/ultimate tool watch, was founded in 1961 by Helmut Sinn, a former WWII pilot. Initially manufacturing navigation clocks and pilot's chronographs, Sinn would explore the last frontier (space) before they explored the depths of our oceans.
In an attempt to highlight some of Sinn's best terrestrial timepieces, we will be discussing the 15 Best Sinn Dive Watches, so take a deep breath, hold it in, and prepare for some in-depth content.
SINN: WHY IT SHOULD BE ON YOUR RADAR
I think it is safe to say that many of us in the watch enthusiast community know Sinn as the perfect entry into German watchmaking.
While some of its German counterparts e.g. A. Lange & Söhne, Glashütte Original, and even to some degree NOMOS Glashütte, are known for their high degree of finishing and stylings, they aren't necessarily known for their pursuit of durability and functionality.
With that said, I think that is the reason Sinn should be on your radar.
Sinn offers incredibly well-made, durable, and highly legible tool watches that encompass a very German design language at a very affordable price.
While I understand that affordability is a subjective matter, I do think that for an enthusiast looking for a German timepiece to add to their collection, Sinn is an amazing brand that still offers some great value-for-money timepieces with some of their entry-level collections.
Some great examples of this are the Sinn 556, a modern tough-as-nails answer to the Rolex Explorer, and the Sinn 105 UTC, a wonderful GMT alternative to the Rolex Explorer II. Both can be had for less than $2,000 on the secondary market.
HISTORY: SINN DIVE WATCHES
While Sinn has produced many timepieces with water resistance ratings that align with any modern dive watch, it wasn't until the mid-90s that Sinn started to push technological advances specifically for dive watches.
In 1995, Sinn developed Hydro technology. This meant that a watch would be filled with crystal clear oil with the same reflexive index as the sapphire crystal, allowing the watch to be legible from any angle without glare, free from fogging, and pressure resistant at "all possible diving depths."
But, it wouldn't be until 2005 that the utilitarian German brand would release the dive-focused legend that is the Sinn U1. So, without further ado, let's jump into our list and start it off with the legend itself.
The Best Sinn Dive Watches
1. Sinn U1 Diving Watch (ref. 1010.010)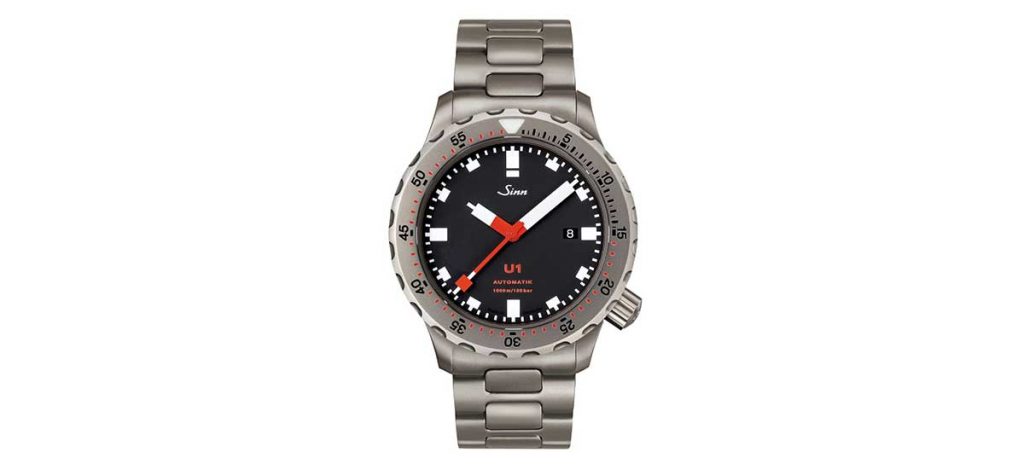 As stated above, the Sinn U1 was first released in 2005 and has since become one of the industry's most easily recognized dive watches due to its unique design language.
The U1 has a case diameter of 44mm, a case thickness of 14.7mm, and a lug-to-lug distance of 51mm. The U1 is by no means a watch for smaller-wristed enthusiasts, but due to its rather compact lug-to-lug distance, it wears much smaller than the dimensions would suggest.
Like all of Sinn's dive watches, the U1 is made from media-blasted submarine steel, which is a harder steel than 316L thus being more corrosion resistant. But, like all Sinn timepieces, the U1 wouldn't be what it is without Sinn's quirky, Bauhaus-esque design language.
The matte black dial and bright white printed indices make the U1 highly legible while the red accents that adore the syringe-style hands give the stark dial a much-needed splash of color.
2. Sinn U2 EZM 5 Mission Timer (ref. 1020.010)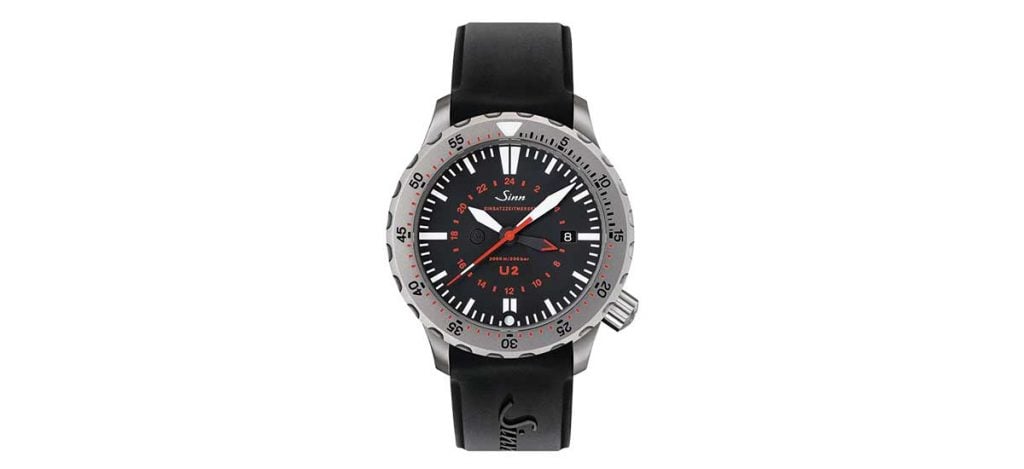 The Sinn U2 EZM 5 Mission Timer ref. 1020.010 is an amazing example of Sinn's ability to create highly functional and large timepieces that work well on a multitude of wrist sizes.
Like the U1, the EZM 5 Mission Timer has a case diameter of 44mm. Where it diverges just a bit is in the case thickness of 15.7mm thick, the extra thickness is due to the added functionality of this wonderful dive timepiece.
The EZM 5 not only offers dive watch capabilities with its elapsed time dive bezel, but it also offers the ability to track a second time zone in a 24-hour format.
But, hands down, one of the coolest features on the EZM 5 is the Ar-Dehumidifying technology that is offered with this watch. This means that the watch is nitrogen-filled, removing moisture and impurities. This is indicated by a copper sulfate capsule at 6:00.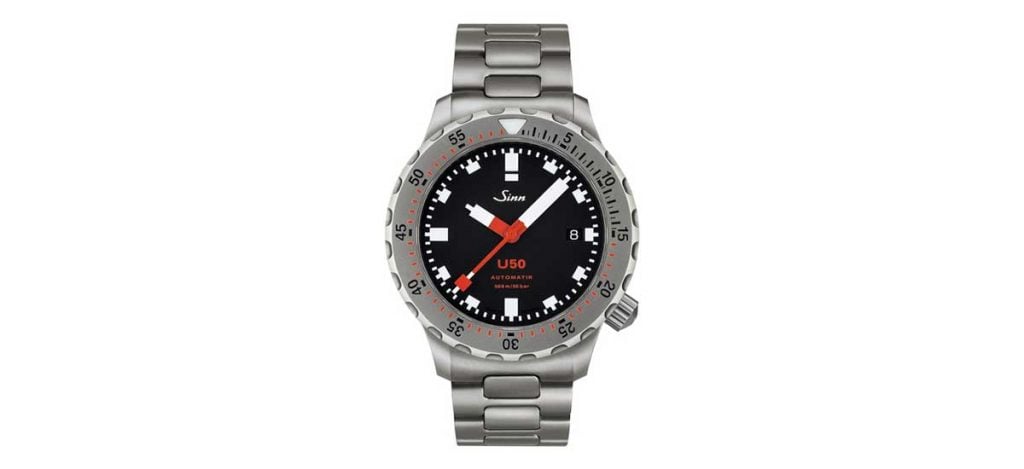 In the last three to four years, we have seen a movement towards smaller/midsize dive watches. For example, we have seen some big players like Tudor release the incredibly popular Black Bay 58, which comes in at 39mm, the Pelagos 39, and even more recently at Watches and Wonders 2023, Tudor released the Black Bay 54, a midsize dive watch that has a case diameter of 37mm.
With that said, it is no surprise that Sinn followed suit in order to reach a wider audience who love the Sinn aesthetic but not the Sinn size. So in 2020, Sinn released the U50, the little brother to the U1.
With a case diameter of 41mm, a case thickness of just 11.2mm, and a lug-to-lug of 47mm, this compact 500m dive watch is easily the most wearable in the Sinn dive collection and one that works with a variety of wrist sizes.
Much like its big brother, the U50 is highly legible and incredibly robust. The U50 even comes equipped with a Tegimented bezel. Tegimenting is a chemical process that raises the hardness level of the base metal, making it even more durable and resistant to daily wear and tear.
4. Sinn T1 EZM 14 (ref. 1014.010)
The Sinn T1 EZM 14 is another timepiece that is part of the Sinn Mission Timer series of watches. With that said, like many of the other EZM watches, the T1 is a purpose-built tool, which means it needs to be durable, accurate, and legible.
The T1 is all of the above, especially durable. The T1 is made from high-strength grade-five titanium, which means that the T1 is not only durable, titanium being stronger than steel, but it is lightweight and even more resistant to saltwater, making the T1 an excellent option for a dive watch.
The T1 also has a different case shape from the other Sinn watches that we have talked about thus far. The cushion-styled case of the T1 has a case diameter of 45mm which sounds huge, but with a lug-to-lug of only 49mm, the T1 wears very compactly, especially with a case thickness of 12.5mm.
Aesthetically the T1 differs from other Sinn divers. The T1 was the first Sinn dive watch to use an arrow for the minute hand. Due to the hour and minute hands being so different, they are easily legible and distinguishable in low light.
5. Sinn U1 SDR (ref. 1010.040)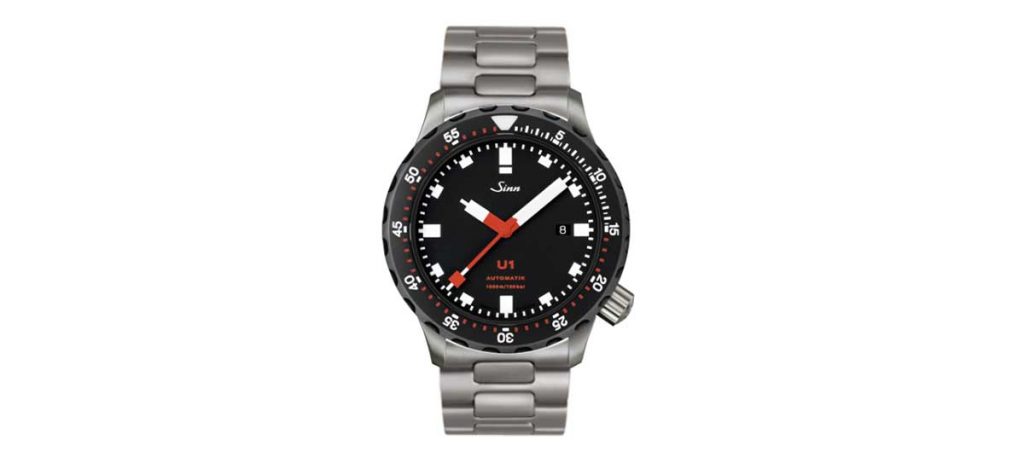 In the pantheon of legendary Sinn dive watches, the Sinn U1 SDR is a timepiece that exudes a certain type of toolish charm with just a hint of ultra-modern styling.
While, yes, the U1 SDR is basically just a U1 with a black bezel, I think it looks the part for a modern, highly legible tool watch with the same capabilities and functionality as the classic U1.
But, if you are looking for a great German dive watch and the U1 is just a little too sterile, or maybe the right wear is surgical, I think the black bezeled U1 SDR is the perfect timepiece for you.
6. Sinn 206 Arktis II Diving Chronograph (ref. 206.012)
As we continue our deep dive into Sinn dive watches, we come to our very first chronograph on the list, the Sinn 206 Arktis II Diving Chronograph ref. 206.012.
The Sinn 206 Arktis II has a case diameter of 43mm and a lug-to-lug distance of 48.9mm, meaning that this highly polished stainless steel dive chronograph wears very compact considering its case diameter. For reference, the Arktis II falls right between the Tudor Black Bay 41 & 58 in regard to its lug-to-lug distance.
One of the stand-out features on the Arktis II is the beautiful sunburst ice-blue dial. The blue dial and satin metallic bezel are a great two-tone combination for anyone looking to add a hint of subtle color to their stable of timepieces.
Powered by a top-grade Valjoux 7750 movement with Sinn's proprietary extreme temperature technology (tested to -45 degrees Celsius), the Arktis II is the perfect dive chronograph for the enthusiast looking for something a little different.
7. Sinn U2 SDR (ref. 1020.040)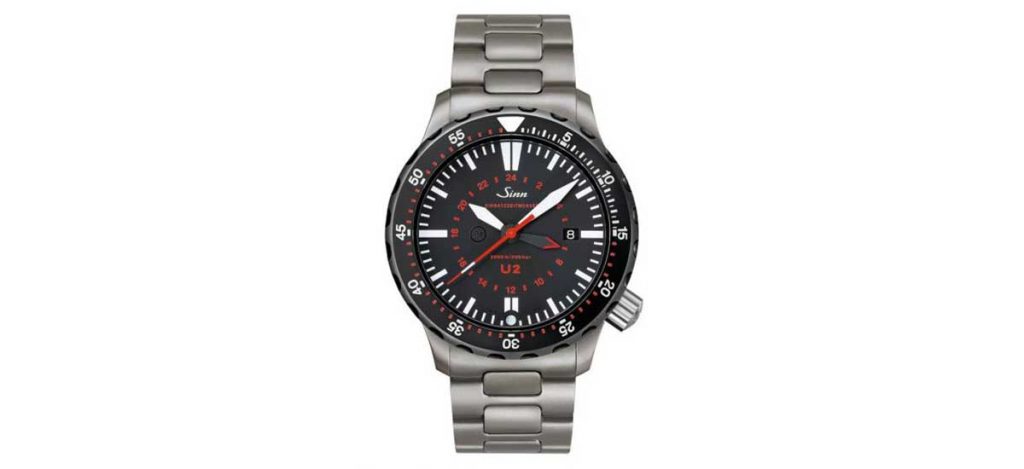 As discussed earlier in our list, the U1 and U1 SDR, the Sinn U2 SDR ref. 1020.040 is a black bezeled version of its classically styled (by Sinn standards) U2 EZM Mission timer. And, much like the U2, the U2 SDR is an amazingly capable dive watch with the added functionality of a GMT.
What sets the U2 and U2 SDR apathy from other "dive gmt" watches has to be its actual water resistance rating of 2000m. The closest competitors within the same price range are the Seiko Prospex SPB383 diver GMT with 200m water resistance, the Tudor Black Bay GMT with 200m of water resistance, and the Oris Aquis GMT with 300m of water resistance.
So to put the astonishing U2 SDRs water resistance rating into perspective 2000m is roughly 1.25 miles, the same distance traveled during the Kentucky Derby! So if you are looking for a dive GMT with true dive capabilities, the U2 SDR might just be the piece for you.
8. Sinn T50 (ref. 1052.010)
For anyone who has followed Sinn over the last decade, it makes sense that the Sinn T50 would be the successor to the already popular U50. But it was still an unexpected release to start 2023.
The newest addition to the Sinn lineup is the Sinn T50, a bead-blasted titanium-cased version of the hugely popular and much-loved U50.
While the T50 definitely gives off IWC/Porsche Design Titan vibes, the T50 gives enthusiasts the same wearable/liveable U50 design and dimensions in an even lighter, stronger, and more durable titanium case.
While the T50 resembles the U50 in almost every way, the biggest departure and one that I happen to love is the new handset. Sinn opted to change the classic Sinn syringe handset to a sword-style handset. A welcomed change for me. It gives me Rolex Milsub vibes that might just scratch an ever-present itch that I may never be able to get rid of.
9. Sinn EZM 3 Diving Watch (ref. 603.010)
The Sinn EZM 3 might be one of my favorite dive watches on this list. The Sinn EZM 3 has a case diameter of 41mm, a case thickness of 12.5mm, and a lug-to-lug distance of 48mm, which means, like many of the watches on our list, it is highly wearable on a wide range of wrist sizes.
Like the last timepiece on our list, the T50, the EZM 3 gives me Milsub vibes, not because of the sword handset, but because of the fully graduated dive bezel and no-nonsense stylings of this awesome Mission Timer.
One great feature of the EZM is the soft iron inner cage similar to a Rolex Milgauss, which means that this watch is antimagnetic up to 80,000 A/m.
The EZM 3 is a great dive watch that could be the perfect daily wear for some of our left-handed readers due to the crown being on the left-hand side of the case. But, fear not, it will wear just as comfortably on any right-handed wearer and offer more for the money than some other options within this tier of the market.
10. Sinn U50 SDR (ref. 1050.040)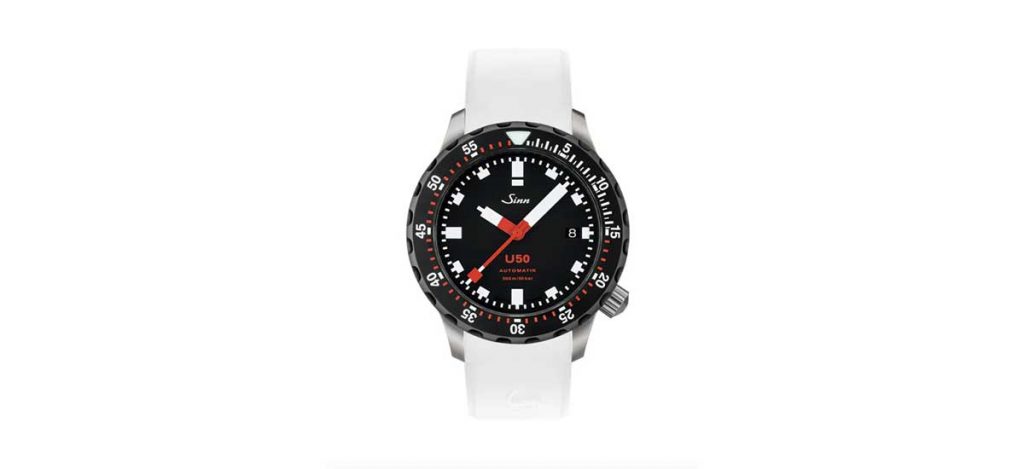 I know I said that the EZM 3 was one of my favorite watches on the list due to its simple yet functional design and fully graduated dive bezel, but there is something to be said about a black bezeled U50 with classic Sinn syringe hands.
I'm not sure what it is, but there will always be something intangible about the U50, especially with a black bezel that will always draw me in like a moth to a flame.
Again, like its sibling, you have 500m of water resistance in a submarine steel case that has a diameter of 41mm, a case thickness of 11.2 mm, and a lug-to-lug distance of 47mm. The differentiating factor, and the one that won me over, is the black bezel.
The black bezel adds a certain familiarity to a dive watch that might be missing in the original U50 but, nonetheless, creates a vibe evocative of a true tool that can be used in almost any scenario.
11. Sinn UX EZM 2B Mission Timer (ref. 403.030)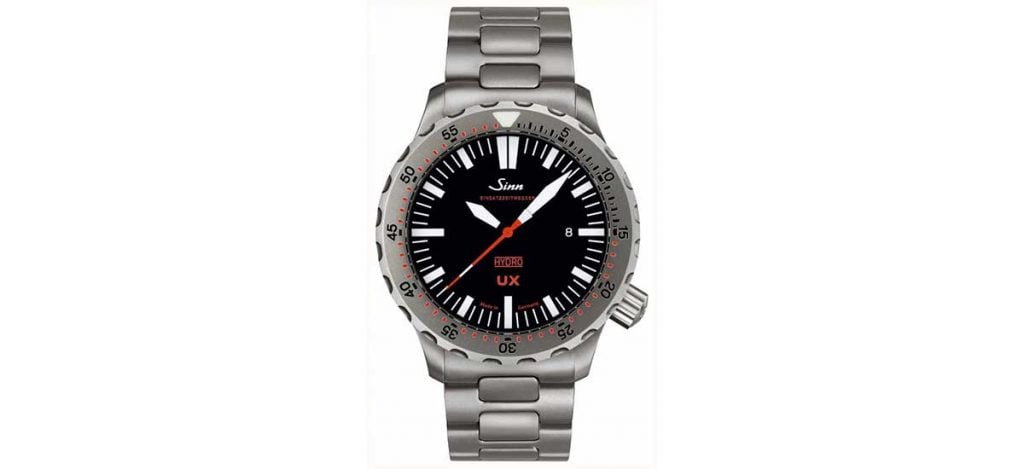 After discussing some of Sinn's technological advances earlier in the article, we haven't actually discussed a watch that utilizes the HYDRO technology until now. The Sinn UX EXM 2B is a mission timer designed for the special forces with the ability to withstand the most extreme of situations.
Powered by a Lithium-Ion battery the robust, highly precise quartz-driven ETA 995.652 movement is reliable even in temperatures ranging from -25 degrees Celsius to 60 degrees Celsius.
The UX EZM 2B has a case diameter of 44mm and a case thickness of 13.3mm, which means that this purpose-driven dive watch is a great option for anyone looking to add a little tactical bravado to their wrist.
12. Sinn U1 S Mother-of-pearl S (ref. 1010.0242)
If I'm being honest, the Sinn U1 S Mother-Of-Pearl S ref. 1010.0242 doesn't do it for me. In my mind, it doesn't make sense. Now, don't let that discourage you from looking into this timepiece; if MOP is your thing, it just doesn't happen to be mine.
While I understand that Sinn is trying to appeal to a different market with the U1 MOP, it just doesn't seem to make sense.
You have a legendary tool watch that is purpose-built for a reason, with a dial that is more difficult to read, with no added benefit other than aesthetics.
The only redeeming feature on this U1 MOP is that the case and bracelet are all coated in a "Black Hard Coating" that gives this timepiece an amazing tactical look with the added durability of a DLC coating.
If Sinn utilized the "Black Hard Coating" on the U1 with a fully lumed dial, similar to the Tag Heuer Night Diver, you could bet I'd stand in any line to get that timepiece.
13. Sinn EZM 13.1 Diving Chronograph (ref. 613.011)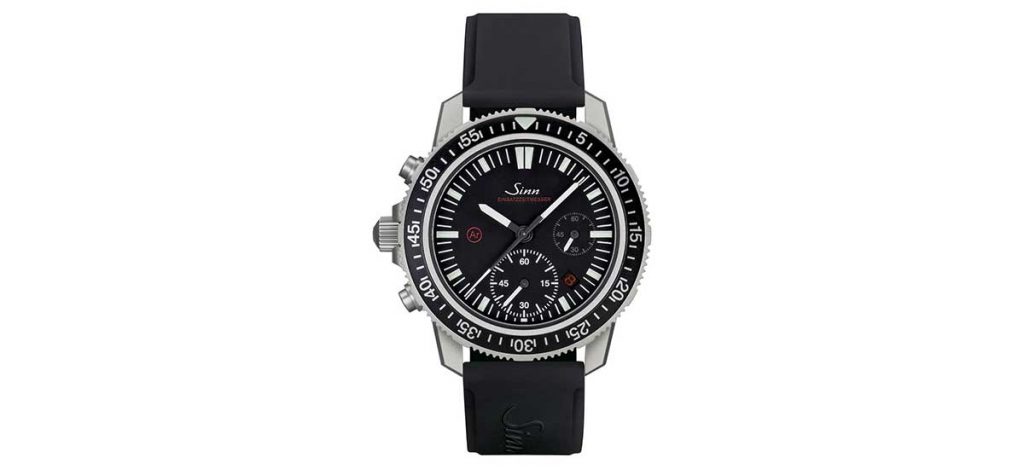 When discussing Sinn, most enthusiasts' minds tend to drift towards a functionality they are very well known for, the chronograph, but more specifically, a pilot's chronograph. But, as we have seen so far on this list, Sinn does an amazing job with their dive watches, so it goes without saying that a Sinn dive chronograph would be no different, an incredible piece.
With that said, the next watch on our list is the Sinn EZM 13.1 Diving Chronograph. With a case diameter of 41mm and a case thickness of 15mm, the EZM 13.1 has a Destro case design meaning the crown and pushers are on the left-hand side of the case. In Italian, Destro translates to right, which is typically the wrist that a left-handed person would wear their watch on.
So long story short, the watch is designed to be worn on the right wrist, but much like the Tudor Pelagos LHD, the EZM 13.1 can be enjoyed by anyone regardless of the wrist it is on.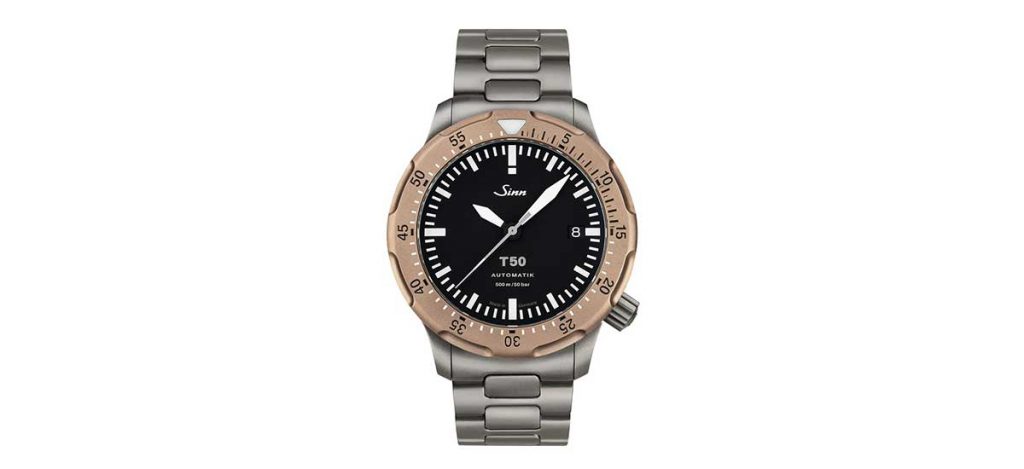 Sinn has always stayed true to their design language. I know this is something that we have already discussed and made mention of in this article, but it is something that just can't be ignored when discussing the brand.
Their design is so unique and so very Teutonic that a Sinn watch is unmistakable. But, just when you think Sinn is set in their ways, they break the mold and release the brother to the already discussed T50, the T50 GBDR.
The T50 GBDR, for all intent and purpose, is the same exact watch as the T50, but with one glaring and obvious difference, a bronze dive bezel in a Sinn-developed and patent pending alloy called Goldbronze 125.
While the use of somewhat unconventional materials is common for Sinn, the Goldbronze 125 used on the T50 GBDR is a departure from their traditional stoic design style.
So, if you're looking for a Sinn that is a little unconventional by Sinn standards, the T50 GBDR, with its use of titanium and Goldbronze 125, might just be the Sinn for you.
15. Sinn U212 EZM 16 Diving Watch (ref. 212.040)
For many of us, Sinn timepieces straddle the line between just right and slightly too big. While they generally wear smaller than their dimensions would have you believe, the last timepiece on our list, the Sinn U212 EZM 16, is large, in charge, and would wear perfectly on any 80s action hero's wrist.
The U212 EZM comes in with a whopping 47mm case diameter but with a case thickness of only 14.5mm, meaning that this extra-large timepiece seems to wear a little flatter than the U1, U2, or UX series of watches due to its expanse on the wrist.
The almost entirely black and white colorway has just a splash of red to denote the water resistance (1000m!) and borrows the same sword-style hands from the U2 and the UX.
And, finally, the fully graduated bezel has a little trick of its own. While it isn't specific to the U212 but rather all of Sinn's timepieces with a rotating bezel, the bezel of the U212 is a captive bezel meaning it is retained by tiny screws and can withstand the hardest of blows.
Parting Thoughts
Today's list was a fun one. Before starting, I was already a bit of a self-proclaimed Sinn fanboy, but from the research aspect, I was pleasantly surprised and learned more about Sinn than I could have ever wished.
Sinn is the no-nonsense Teutonic watch brand whose name is synonymous with quality and ruggedness. Sinn is also undoubtedly a brand that constantly reassures its wearers that what they have is special.
They are true purpose-driven tools, that in their brief history, have given the watch community a stoic hero to root for.
So if you are in need of your next go anywhere, do anything tool watch, check out Sinn's dive watch line for an adventurous option that stands out from the crowd.