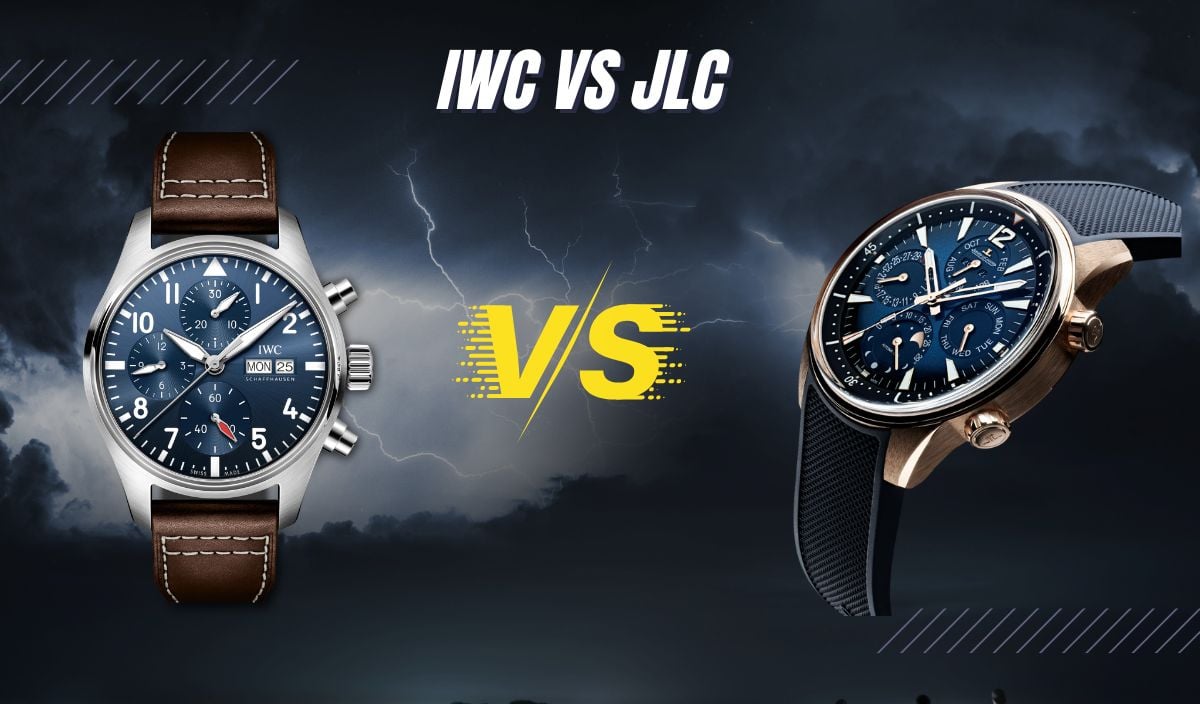 Are IWC watches better than Jaeger LeCoultre watches? Is JLC more prestigious than IWC? These are pressing questions in watch collector circles that we look to clarify once and for all. In a world of Rolex vs Richard Mille knockoffs, IWC and Jaeger are some of the few fine watchmakers that catch a collector's fancy.
Both brands are regarded as industry titans, with Jaeger Lecoultre distinguished by a tradition of in-house production and IWC's commitment to sustainability and high-quality titanium and pilot watches. This comparison guide looks closely at each brand's history, craftsmanship, popularity, and warranty that put them in the spotlight. And clarifies who's the better brand.
History and Target Market
International Watch Co. (or IWC Schaffhausen)
IWC was founded in 1868 – 154 years ago – by a renowned Boston watchmaker and engineer, Florentine Ariosto Jones, who had a vision of fusing swiss horology with American technology to create masterpieces. Jones established IWC's headquarters in Schaffhausen to enjoy the cheap overhead costs and abundant skilled workforce in Switzerland at the time.
The eponymous Jones caliber helped IWC establish its reputation in the early years of the company's existence. This company produced its first pocket watch that evolved into its first wristwatch in 1885. The watches may look familiar at first glance, but you should know that they are not comparable to other high-end models you have seen.
Jaeger Lecoultre – The Watchmaker's Watchmaker
Surprisingly, Jaeger and IWC share a common history. JLC was founded in Le Sentier, Switzerland, in 1833 – 189 years ago – by Antoine as a small watchmaking shop after he invented a device for cutting watch pinions from steel. Antoine, like IWC's founder, F. A. Jones, was a visionary who invented the most accurate time measurement instrument and a keyless rewind system of the era.
From the get-go, JLC combined all aspects of watchmaking under one roof: a heritage they've kept to date. Unsurprisingly, they became the most valuable company in the Swiss region of Vaud due to their impressive production capacity, using machines and hiring over 400 employees. That's an impressive feat for a company in the 1800s.
Today, Jaeger LeCoultre is known as the master of complications, with over 1,300 unique calibers under their microscope. They also supply movements to high-end luxury watchmakers like Rolex, AP, and Patek Philippe, hence, their alias, "the watchmaker's watchmaker."
Craftsmanship
You can expect no less than the finest craftsmanship on any timepiece from both brands. But they use different patent finishing and quality control techniques to achieve that indestructible and elegant aesthetic of upper-market luxury watches.
Jaeger LeCoultre, for example, runs a 1000-hour control test on every watch that ships out of the factory. IWC, on the other hand, opens the doors to its 14-000 square-foot factory for anyone who wants to learn about its sophisticated craftmanship through virtual or in-person fan tours. It shamelessly showcases IWC's first-class equipment, movement-making prowess, and world-class craftsmanship. It's another area both IWC and JLC outshine upscale competitors, and you'd see in detail in their Brand Prestige comparison.
Jaeger and IWC also use handmade alligator or calfskin leather straps, titanium steel, precious metals, and rubber straps that are tough and comfortable. In addition, IWC offers an EasX CHANGE system that allows users to swap bands like an Apple watch in its Big Pilot series. Notwithstanding, it's a close call on which brand has the most sophisticated craftsmanship, but Jaeger LeCoultre wins, with a bias towards their A-Z in-house manufacturing process.
Brand Prestige
Jaeger LeCoultre and IWC watches have gained considerable prestige in their respective century-old existence. And our overlords with a rich history and brand image that stands out even in ultra-high-end luxury watch scenes. But it's insensitive to hold one's prestige over the other as their values appeal to different audiences.
Jaeger LeCoultre is the "watchmaker's watchmaker" because, unlike many luxury brands, they create, design, manufacture, and curate all timepiece parts under one roof. And they've continued to supply some of the best luxury watchmakers with movements over the decades. With this history, super-complications, and limited yearly production, JLC is a collector and enthusiast favorite.
While IWC doesn't have the credibility of complete in-house production, they'll appeal to a sustainability-conscious wearer. The watchmaking industry receives rightful hot backlash from environmental activists and agencies over the sourcing and processing of its precious metals and gems.
IWC is a frontrunner in this war and was ranked no.1 among 15 major watch manufacturers, which includes Jaegar LeCoultre and big names like Rolex, Omega, Tissot, and Audemars Piguet. However, most watch collectors and enthusiasts would value JLC's consistency in making all timepiece parts under one roof. Therefore, Jaeger LeCoultre has numbers on its side as the more prestigious luxury watchmaker over IWC.
Brand Recognition: The 8th and 11th Best Swiss Watchmakers
While their brand prestige is a choice between values, recognition boils down to popularity and revenue, which is objective. And if we're talking numbers, IWC has the upper hand with an estimated worth of 779 million CHF (Swiss Francs) over JLC's 673 million CHF value. They're also the eighth and eleventh most valuable swiss watchmakers, respectively.
How do they stack up against Rolex, the world's most renowned watchmaker? It's not a close battle as Rolex is worth an estimated 7 billion CHF – nearly ten times more than IWC – to top the Interbrand study list.
Fun fact: both brands are subsidiaries of Richemont Group (includes brands like Cartier, Vacheron Constantin Montblanc, Piaget SA, A. Lange & Söhne), a luxury goods holding company worth about 13 billion euros.
However, IWC are traditional watchmakers focusing on crafting complicated watch movements for watch lovers. JLC clarifies this concept using the chic and classy Queen's Gambit star Anya Taylor-Joy as their ambassador for their flagship Reverso. Far from the Rolex ideology of aggressive marketing to different fields and as a symbol of wealth and power. Ironically, it's not surprising for an IWC or Jaeger LeCoultre owner to have a Rolex in their collection.
Warranty: The Richemont Group Privilege
JLC and IWC recently introduced an extended warranty option, perhaps as a Richemont group procedure. With this extended guarantee, you may add an extra six years to the standard 2-year warranty of your watch. Generally, you can enjoy coverage for up to 8 years with both brands, which is longer than the average five years warranty from ultra-luxury watchmakers like Rolex and two years from entry-level brands.
IWC and JLC require registration for their respective MY IWC and Jaeger LeCoultre CARE programs to qualify for this extended warranty period. Therefore, you must complete the registration process for an extension while your watch is still under warranty.
Watch Comparison: IWC Aquatimer vs. JLC Polaris
Remember that these comparisons only apply to each company's most recent model.
Although there are specific differences between both brands. Even though both brands produce elegant C-level executive-type watch designs, it still needs to be determined which one is superior.
The Jaeger LeCoultre Polaris has a titanium case with a limited edition white-gold color. Whereas IWC's Aquatimer has a stainless steel case, matte black dial, and specialty leather bracelet with a quick-change system to swap between the rubber and stainless steel straps.
Style and Design
IWC is way more unique than LeCoultre in style and design, and this characteristic elevates this watch to the same level as its rival. Jaeger LeCoultre consists of a stainless steel case finish with bright dials and a white gold bracelet. IWC, on the other hand, is made of mate dial plates and mate body in the leather bracelet. IWC allows their designers to choose the color, which comes with a mate body and panel finish.
Special Features
Although the IWC is a diving watch, it resembles the sporty design of the Polaris. Also, they can both withstand pressure up to 1000 feet underwater. In addition, they both come in a white and yellow gold edition, water resistant, and Cartier special.
Price: Portofino VS JLC Master Control
LeCoultre and IWC are almost evenly matched when it comes to price. Both brands offer several pricey models that are reasonable for both businesses, given their quality and quantity. Each offers versions with prices around $30,000 and entry-level models starting at about $3,000 apiece.
The Yes: IWC watches
Trademark quick-change bracelet system
Inner-rotating bezel and lightweight titanium case
Best environmental conscious watchmaker
The No: IWC Watches
Off the shelf 7750 movements
The Yes: Jaeger LeCoultre
Manufactured 100% in-house
Innovative movement complications
Timeless dress watch collections
The No: Jaeger LeCoultre
Might be unknown to non-watch enthusiasts
IWC Portuguese Auto Vs. JLC Master Control
Both watches cost almost the same price, and they have amazing functions. However, it might not be easy to decide which one to buy. Here is a brief description of the design and functions of these two extraordinary watches:
IWC Portuguesier Auto
With an automatic date at 6 o'clock, a plain white dial, chronograph replacing 9 and 3 o'clock, the Portugieser maintains a simple design like the debut 1930s version. But unlike the 36mm case in the old version, IWC increased its size to 40mm and adorned it with a refined contemporary finish.
The stainless steel casing has a warm tone that accentuates its gold-plated hands and indices. Its caliber 82200 movement is made in-house with ceramic components and boasts a Pellaton winding mechanism with a 60-hour power reserve. And you can admire the complications through its see-through sapphire glass back.
JLC Master Control
JLC's Master Control collection, with its celebrated round design, has become a flagbearer for the brand since its debut thirty years ago. The recent Master Control Date adds date and time features to the dial while staying simple. The 40mm casing, hands, and indexes for this watch are all stainless steel. To reduce friction and increase efficiency, the escapement and pallet of the watch's Caliber 899 movement have been upgraded for the Master Control Date.
And it provides up to 70 hours of power reserve before manual winding. Jaeger LeCoultre's most complicated wristwatch, the Hybris Mechanica (with 26 complications) and only 30 pieces made, costs $2.5 million. While the Siderale Scafusia is one of IWC's most complicated watches, which costs around $750,000.
Frequently Asked Questions
Why Are JLC Watches So Expensive?
Jaeger LeCoultre is an almost 200-year-old pioneer in the watchmaking industry. JLC designs and manufactures its timepieces by hand under one roof – and is the first to achieve this feat. And JLC produces less than 40,000 watches yearly, making them valued as ultra-luxury watches.
What kind of person wears IWC?
Only true watch lovers, collectors, and reserved personalities proudly wear the IWC or Jaegar. A person who wears an IWC watch wants values sophisticated watch movements and prefers a discreet show of her wealth or affluence. If you're looking to wear a luxury watchmaker that sends eyes gazing, you'll be better off with a Rolex or Richard Mille.
Is JLC better than Cartier?
The Jaeger-LeCoultre brand is considered more prestigious than Cartier. JLC is an ultra-high-end and super watch producer, whereas Cartier is regarded as a jewelry brand. Also, Cartier watches typically have a relatively lower resale value and complications in general.
Final Thoughts: IWC or Jaeger LeCoultre?
And there you have it, an in-depth comparison between IWC and JLC watch brands. If you are more movement and accuracy fanatic, Jaeger LeCoultre is the better brand. And IWC is a better case maker, eco-friendly, and marketable brand.
It's why IWC is more valuable, and you'd spend just as much for both of them as you would on any upscale luxury watch. What are your thoughts? Browse our collection of IWC and Jaeger LeCoultre watches.