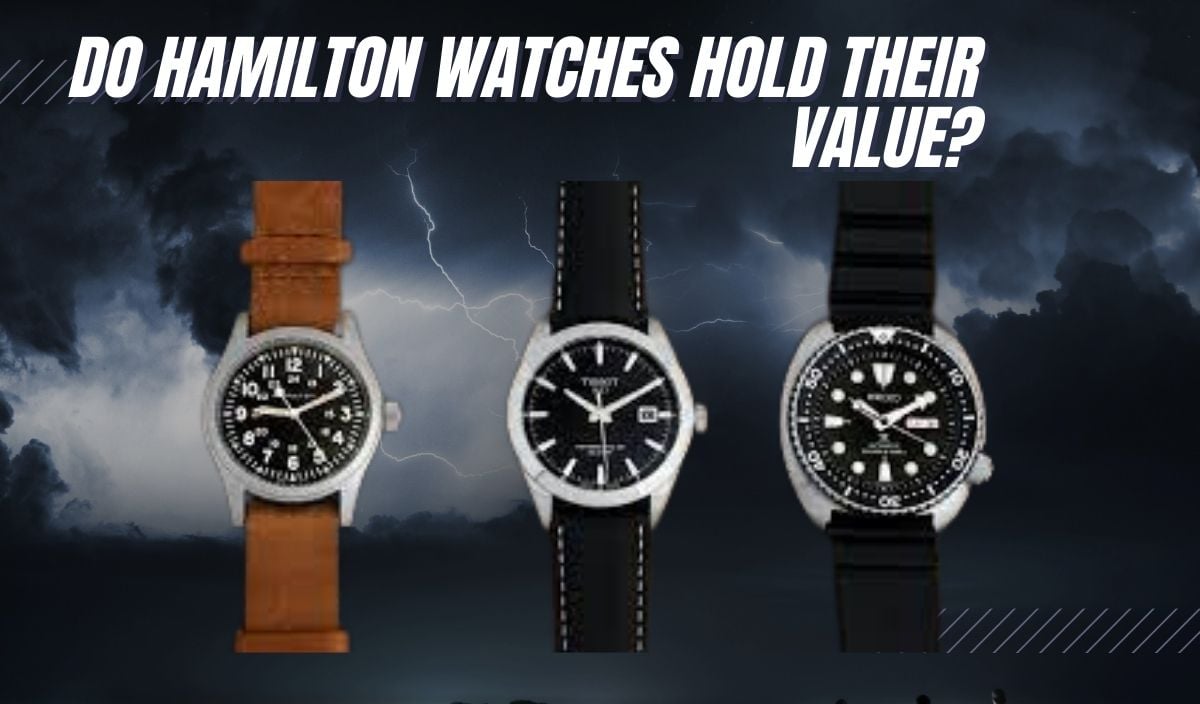 During the last decade, the watch market has seen a meteoric rise. The sudden increase in value, demand, and hype comes as a result of watch lovers' and speculators' better awareness about the rarity, heritage, design, quality, and enjoyment of vintage, unique, low production, and haute horlogerie watches (that were once undervalued) now have to offer the world.
All this is thanks to the greater access to watch media (social media) – an industry still in its infancy. How would this impact Hamilton watches? When an industry is flourishing, as it has recently been in the case of the watch industry, it enables many more potential customers to find the confidence to invest in a watch, with an expectation of retaining or growing their investment over time.
As an entry-level mechanical tool watch brand, a Hamilton watch is an option that has crossed many enthusiasts' minds due to its competitive price point ($500-$3,000), timeless designs, reliable movements, and meaningful history dating back to the era of American industrialization.
About Hamilton Watches
Hamilton, originally an American brand established in 1892, spent its first 111 years as an American timekeeping instrument manufacturer taking on the Swiss. As the local Railroad industry was booming in the late 19th century, accurate timekeeping devices were needed to synchronize timing on the rails and therefore help prevent accidents.
Hamilton was fit to supply pocket watches that were up to the task and built a reputation for their successful involvement. Hamilton was dedicated to bringing accurate and reliable timekeeping devices to the developing aviation industry. In 1918, Hamilton became a supplier to the U.S. Airmail Service. They still have a strong and dedicated collection for the needs of Aviation.
Hamilton was the sanctioned pocket watch supplier to the U.S. Military during World War I. Decades later, they halted production of their commercial collection to once again support the high supply needs of the U.S. Military during World War II.
Their involvement during the early era of mechanical tool watchmaking for military purposes has made them famous for their field watches even today. In 1957, Hamilton proved it could do a daring design with modern-day innovation and functionality with the Ventura, the world's first electrical watch.
Another icon would follow in 1970 with the Pulsar, the world's first LED digital watch. Since 1974 Hamilton has been part of the Swatch Group and, in 2003, moved its HQ to Biel, Switzerland. To many customers, the Swiss-Made label does make a difference to the value offered, as Switzerland is the heart of fine watchmaking.
Swatch Group, the watchmaking powerhouse, has enabled Hamilton to access its back catalog of proven and robust movement technology in the form of ETA-Calibres. Hamilton has successfully conveyed the storytelling of their watches on the silver screen for nearly 90 years.
Featuring in Shanghai Express 1932, Frogmen 1951, and Blue Hawaii 1961 – an Elvis Presley musical comedy featuring the then revolutionary Ventura on his wrist, making it an American watch icon. Hamilton has starred in over 500 major feature films to date. Its recent features in notable box office hits were Interstellar and the Martian.
Noteworthy Movie Watches From Hamilton
Khaki Navy: The Frogmen 1951
Ventura: Blue Hawaii 1961, Men in Black 1997
Pulsar: Live and Let Die 1973 (James Bond)
Khaki Field Mechanical: Pearl Harbor 2001
Khaki Field Murph Auto & Khaki Pilot Day Date: Interstellar 2014
Khaki Navy BeLOWZERO: The Martian 2015
What Makes a Watch Hold Its Value
For a product to hold its value immediately after being purchased or over time is generally a rare anomaly that collectors have become used to due to the recent watch market boom. Watchmaking today can be defined as the fine art of workmanship, innovation, and centuries-old storytelling in the pursuit of precision and accuracy.
The growth of watch media has been a massive platform for recognizing the value of vintage and modern watches. With this information available to us in abundance, a few crucial characteristics define a watch's resale value over time.
1. Brand Recognition
Through its lifetime spanning centuries, the watchmaking industry has seen some of the most recognizable and powerful industries come to fruition. Today a favored brand would possess a strong collection, a storied heritage, and a reputation for delivering excellence in the form of robust durability or high watchmaking.
Recognition can also be achieved in a short period, even with a limited heritage. This happens when a watchmaker is able to deliver a revolutionary concept or offer high-pedigree watchmaking. Independent brands such as MB&F, F.P. Journe, and Richard Mille are great examples of young watch brands with high watchmaking skills that have built a very strong reputation within the watch market.
2. Product Placement
Product placement plays a huge role in developing an image of a brand or a product. We are familiar with brands exercising this practice through advertising, partnerships/collaborations, and movie features. These are great tools for a brand to attract the right target audience, control its storytelling language, and create exclusivity.
Think Richard Mille, strapping their watches on the wrists of the highest profile athletes, James Bond fashionably sporting an Omega Seamaster on his wrist, or even Patek Philippe telling you that their timepieces are meant to be passed down generations.
Hamiltons' 90-year-long partnership with the movie industry has seen a convergence of passion, action, culture, futurism, and storytelling injected into their lineup. Because of its American and military roots, it has successfully paired its brand image with the broad spectrum of characters that feature them. Thereby creating a cult following and a larger degree of relatability for the brand in the past and in the future.
3. Supply Characteristics
There are many facets to the subject of supply in the watch market. We have large or independent manufacturers with entry-level to super-high-end watch offerings and supply numbers based on a particular brand's vision, objectives, or capabilities.
A watch can be high production, low production, or even a limited edition. Brands like Rolex and Patek Phillippe in recent years have been unable to keep up their production output to meet market demand, thereby allowing demand to trickle down to other brands or the secondary market.
What if every millionaire desired to purchase a Rolex in 2023? A quick search will reveal that there are an estimated 56 million people whose assets exceed one million dollars; it is also a known fact that Rolex produces approximately 1 million watches a year.
This would leave a watch allocation only for 1 of 56 millionaires if Rolex were to dedicate its entire year's production allocation to them. Allocation ratios are worse in the real world, and chances of getting a hyped watch at retail have become extremely limited, allowing for immediate value retention and gains.
4. Trends
Ten years ago, from personal experience, I can vouch that far fewer people ever cared to know what a sports model Rolex was "besides wanting a flashy combi-Datejust" that Rolex was famous for. Go back another 10 years, and integrated-bracelet luxury sports watches from AP and Patek Philippe were considered overpriced at retail.
The consensus is the opposite today, as these have been the most significant trends of the modern watch era. We have even seen trends shape prices in the affordable price segments, like the Moonswatch that became the biggest hype watch release of 2022, being listed online for multiples over its list price due to the worldwide recognition and demand that followed its release.
A trend can effectively impact a brand's value retention, even one such as Hamilton. Keep an eye out in the future for budget-mechanical-versatile field watches becoming the new norm.
Do Hamilton Watches Hold Their Value?
Hamilton is not geared to cater to hype or exclusivity; instead, it is an everyday affordable tool-watch brand. When considering its supply targets, it is priced to cater to a mass audience; therefore, mass production will be the brand's priority.
The development of Hamilton's identity through its military background and movie presence over its lifetime has proven it is a brand for the ordinary enthusiast to enjoy and collect. In today's watch landscape, Hamilton stands as a brand with low barriers to entry.
Due to their broad availability, Hamilton watches generally don't offer an immediate resale value of 100% of the amount spent on them. However, due to its brand recognition, storied heritage, great value-for-money offerings, and robust, reliable watchmaking, they will return decent resale value, especially if purchased pre-owned or on a minor sales discount.
It is also important to consider inflation over a long time that will affect watch pricing. Due to this, some models might fetch 100 percent of the value paid for them.
Do Hamilton Watches Appreciate In Value?
There have certainly been Hamilton watches that have appreciated in value, like the Count-Down Chrono-Matic GMT Caliber 14, with a claimed original retail price of $250 back in 1971. If you were to put these figures into an inflation calculator, $250 in 1971 would be $1,596 today. Its current price online of $7,400 has beaten 52 years of inflation by a large margin. 
If you were, or are, considering placing Hamilton into an asset class, undervalued vintage pieces possess the right potential for growth in value as more people discover and learn about the brand over time. This also depends on the model, history, age, and condition.
As for the current collection, Hamilton's language of marketing, branding, and distribution has nothing to do with limiting supply or hyping a watch to the point that it would fetch a premium. However, its close association with blockbuster movie scripts will, in time, see a cult-like following grow for some of its featured (special) models and will have future potential to turn a profit if they end up being limited or discontinued from production.
Conclusion
Over the last decade, we have all become aware that watches from some brands have outperformed the stock market. This unusual occurrence has clearly brought with it a change in mindset over the primary use of watches. In some cases, it has developed mixed opinions of whether they should be worn or treated as an asset class.
What should be considered when analyzing the watch market is that these watches that have been driven to exponential values were once severely undervalued. They were undervalued because decades to centuries of watchmaking excellence needed a worthy medium of converging with the larger audience of potential buyers and collectors.
This medium now exists in watch media, largely responsible for the watch industry's hype and growth over the last decade. As a result, the next decade might not yield the same profitable results as the last. Today, not many people will buy a Hamilton watch for its investment potential. It will instead be bought as a value brand meant to be loved, worn, and collected for its unique ethos within the watch world.